Faces of LIFE: Josue Quiles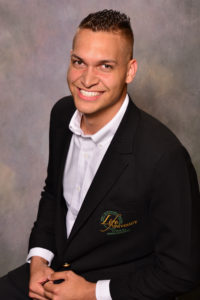 Josue Quiles
Setting Heart to Life
Student: Doctor of Chiropractic, B.S. Health Coaching, B.S. Psychology, B.S. Exercise Science
June 2016
"I'm from the beautiful island of Puerto Rico," is how Life University Doctor of Chiropractic student Josue Quiles begins his story. "Where my family lives is a humble place, and surrounding it is a lot of criminality. From those things, I learned what makes a good family and what it could be like outside of one."
For Quiles, his experiences in Puerto Rico have shaped everything from his personal values to his career goals. He describes his childhood and adolescence on the island as navigating a dense web of choices. Outside of school, he spent his days exploring, playing basketball and sometimes getting into fights. In class, he was known for being the class clown, more interested in getting attention than getting good grades. In a neighborhood known for its criminality, a teacher once warned Quiles, alluding to his behavior and decisions: "You will not pass age 21." This angered Quiles, who was passionate about proving his teacher wrong.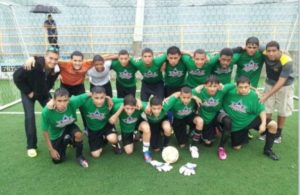 As he watched his friends get into trouble, Quiles began trying to break free from bad influences. "I saw a lot of bad things going on around me, always trying to pull me toward the negativity," he recalls. After high school he played professional soccer for the Puerto Rico Islanders, and got involved in community service, working at an after school sports program. There, he mentored high school students and learned the value of doing something for no monetary gain.
In their twenties, Quiles and his best friend, Keith A. Alicea Rivera, would have late night conversations, saying to each other, "We can be more." They studied their community and wondered how they could help people, where they would go next. Tragically, Quiles now carries that hope for the two of them. Just three years ago, Rivera was shot and killed in a crime still under investigation. One of Quiles' personal goals is to tell his friend's story and continue in their ambitions. He says of Rivera, "He was like a Robin Hood, and we were like brothers. He was a barber. He's still in his barbershop to me."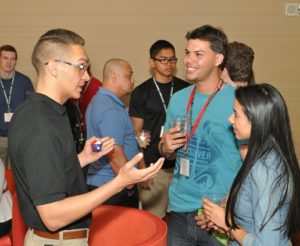 After the death of his friend, Quiles was especially motivated to create a positive impact, trying to determine what "more" he could be. "I'd tried university. I'd tried sport. I didn't feel connected to any of it. I felt I needed to do more than that," he says. One day at her salon, Quiles' mother was proudly bragging about her son when her client, a chiropractor, suggested Quiles go to Life University to study to become a Doctor of Chiropractic.
A Google search led to a LIFE Leadership Weekend, and soon Quiles moved to Marietta, Georgia, working toward multiple bachelor degrees — B.S. in Health Coaching, B.S. in Psychology, B.S. in Exercise Science — all while learning to write and speak English at a collegiate level. "It changed me from my negative environment to a positive environment," he says, noting how Life University people from staff to faculty to students helped him, whether it was finding him somewhere to live or helping him overcome his language barrier. "People kept helping me, wanting nothing in return. It created little moments of 'Wow. Wow.' I have a long list of 'Wow' moments."
Quiles credits this sense of community in his decision to become a student ambassador at Life University. "Working on the inside, you can really tell what a real family we are," he says. He says he's only seen fraternities and sororities in movies, but he imagines this is a similar connection — his student ambassador peers are a family.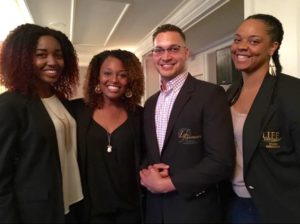 These days Quiles has four degrees in progress. In the coming quarters, he will earn his bachelor's in Health Coaching, Psychology and Exercise Science, as well as begin his first quarter in the Doctor of Chiropractic program this fall. "Here you really are saving time, saving money. If you're interested in something that matters for you, they have the tools here for you to learn it," he says about taking on multiple undergraduate degrees simultaneously. He believes each will prepare him to be a better chiropractor, as well as a better person; he hopes his goal of helping others can be something he applies daily in his career. He describes this: "I'm trying to set my big heart to my life."
He hopes that when he graduates in four years, he will be able to move to a cooler climate (he's over the Puerto Rican sun and the Georgia humidity), open a clinic and work with doctors who have the same vitalistic philosophy of health. He hopes that his professional future also includes mentorship and giving back to students, something that has been so beneficial to his own educational experience.
Even when he's nose-deep in textbooks on four different subjects, Quiles calls home to Puerto Rico daily, catching up with his family and friends. He is driven to ensure that his future is everything he used to talk about all those years ago, and then some. In the meantime, he's determined to make good choices: "I know how easy it is to go wrong. If you know the bad, then you know the good, you know? Yin and yang."
LEARN MORE:
Faces of LIFE is a story campaign that showcases members of the dynamic LIFE community, including faculty/staff, students, alumni and health science professionals. Interested in being featured or nominating a candidate? E-mail LIFENews@LIFE.edu. Read more Faces of LIFE stories.