Faces of LIFE: Laura Marchese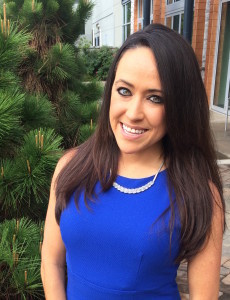 Laura Marchese
Nutrition and Media
Student: Dietetics
April 2015
Dietetics student Laura Marchese loves media, and she started her adult life pursuing a career in television reporting. She finds media to be an incredible platform for education and communication but soon learned she wasn't able to tell the kind of stories she was interested in. "I distinctly remember one day when I was assigned to report on a stolen goat. A stolen goat in a middle-of-nowhere farming area," she laughs. "And it was just like 'Hmm, okay, is this what I want to be doing for the rest of my life?'"
She and her husband, then living in Pennsylvania, eventually sat down for a conversation that would change the course of their lives. Both unfulfilled in their day jobs, they discussed whether it was time to make a drastic change toward fields they were passionate about. For Marchese, it was nutrition. For her husband, it was Chiropractic. "So we decided that if we were going after a different career path and go after our passions, this was the time to do it – before we had kids, before there was anything else in the mix," she says. As they researched schools, Life University (LIFE) had a distinct advantage: it offered degrees in both of their fields. During a LIFE Leadership weekend, they knew they were in the right place.
"I love nutrition, and obviously there is a medical component to that, but I also love the alternative health version of it, so for me [LIFE] was the perfect marriage of those two elements," Marchese says of her choice. "You do get all those principles that you need to be able to sit for the registered dietitian exam, but you also get a wider picture of how alternative health can play into that." She and her husband resigned from their jobs and moved to Georgia in October 2011, ready to start their education at LIFE.
Marchese is a self-proclaimed 'nutrition nerd.' While she was fascinated by nutrition her entire life, it wasn't until she was diagnosed with celiac disease in her early 20s that she began to understand the importance of nutrition. "I was sick all of the time," she recalls. "I cycled through all kinds of specialists who were trying to figure out what was wrong, because I had all these symptoms of malnutrition but was eating a really great diet." Finally, a gastroenterologist asked if she would be tested for celiac disease, and she was relieved. "At the time, that was actually the best-case scenario, because they had been testing for stomach cancer and terrible things, whereas celiac disease is actually very manageable," says Marchese. Her diagnosis allowed her to take her health back into her own hands.
Celiac disease causes the intestinal villi to become flattened, making nutrient absorption extremely difficult. As soon as Marchese went on a gluten-free diet, her body was finally able to absorb its needed nutrients and her symptoms resolved. She says, "It really taught me about the life-sustaining power of food, and the importance of the synergism of nutrients in the diet and feeding your body what it needs."
Adjusting to celiac disease deepened Marchese's interest in nutrition, particularly in how to make choices that would taste great while keeping her healthy and active. "I make a lot of things with coconut flour: pancakes, pizza. I still want to be able to enjoy my favorite foods; I just make them over so that they're healthy and gluten-free," she says of her favorite ingredient swap. For a healthy snack, she often eats coconut yogurt with crushed pecans and cinnamon.
Here at LIFE, Marchese is able to put that lifelong love of nutrition to practice in classes and clubs. "Because it's a small program, we get more opportunities to stretch ourselves," she says. "Other schools do not get that kind of opportunity, to try out your knowledge and skills in a real-world environment." She serves as the lead nutrition clinician for the Campus Center for Health and Optimum Performance (CC-HOP), Funded by Foot Levelers, overseeing a team of six nutrition clinicians. She is the Community Nutrition Assistant for Life University, a Nutrition Department work-study position, and also serves as the vice president of Nu Omega, the academic honors society for health sciences. She graduates in June 2015 and then begins her dietetic internship here at LIFE on her path to become a registered dietitian.
Outside of campus, she works with the American Diabetes Association as a Wellness Representative, educating people on the basics of diabetes management and prevention. She's in her element when talking about nutrition and exercise. "It makes me feel like I'm definitely on the right path," she says. "I'm getting to make a difference in people lives and getting to do what I love."
In her free time, Marchese loves to run and calls herself an "exercise video junkie." She's actually in an exercise video called "The Fête Fix" that was shot in the British Virgin Islands that will release later this year. She's also co-authoring the second edition of "The Life Preserver Diet," a book that explains how good nutrition should be pampering and not limiting. "The premise is practical nutrition solutions broken down in a way that anyone can follow them, serving as a lifeline to someone struggling to improve their eating habits," says Marchese. "Your diet shouldn't be a punishment; it should be a treat. Eating healthy is not just celery and carrots; it's feeding your body a variety of foods in a way you enjoy."
Once she becomes a registered dietitian, Marchese's ultimate goal is to marry all her previous career experience by using media as a platform for nutrition education; she hopes to be a spokesperson for the Academy of Nutrition and Dietetics. She says, "I'll finally be able to tell the stories that I want to talk about."
Faces of LIFE is a story campaign that showcases members of the dynamic LIFE community, including faculty/staff, students, alumni and health science professionals. Interested in being featured or nominating a candidate? E-mail LIFENews@LIFE.edu. Read more Faces of LIFE stories.