Faces of LIFE: Markisha Dixon-Sallie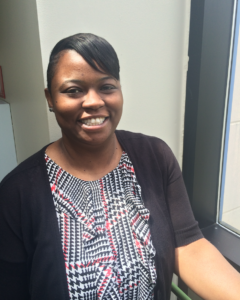 Markisha Dixon-Sallie
That Joyous Feeling
Administrative Assistant, Basic Sciences
Student: M.S. Positive Psychology – General Track
May 2016
Ideas about pursuing higher education began percolating in Markisha Dixon-Sallie's mind at work one day. At the time, she worked for the WellStar School of Nursing at Kennesaw State and was required to attend numerous award ceremonies and graduations. "I would cry the entire graduation because my heart was so full to have met the students at the beginning of the program and to have watched them endure hurdles and then to witness them graduate," she recalls. "And I wanted for myself that joyous feeling they were feeling at that time."
Dixon-Sallie grew up in Detroit, Michigan, graduating from Laura F. Osborn High School in 1996 and marrying her husband, James Jr., at the age of 19. Now living in Georgia, Dixon-Sallie and her husband agreed it was time to both start their college education, but understood it would be a sacrifice to their family. They sat down with their kids, ninth grader Michelle and fifth grader James III, and explained that both parents would soon be in school as well.
"After talking to the kids we set a plan that I would start and when I'm close to being done with my undergrad degree, my husband would start on his degree," says Dixon-Sallie. She earned her Bachelor of Business Administration at Life University while she worked full-time as administrative assistant to the Basic Science division within the College of Chiropractic. Meanwhile, her husband enrolled in Charis Bible College. "Although sometimes it was a juggling act, quitting was never an option for my husband and I once we started because our kids were watching."
After graduating in December 2014 with her B.B.A., Dixon-Sallie looked into graduate study here at Life University. "The Positive Psychology general track was intriguing because I had never heard of 'positive psychology' before," she says of the University's innovative Master of Science in Positive Psychology, one of only three similar programs in the nation. "The first class I took, 'Psychology of Forgiveness' with Brendan Ozawa-de Silva, changed my life. I've never been in a class that taught something like forgiveness. Every week after class I couldn't wait to share with my family what I learned in class." The program has changed her mindset, from "not sweating the small stuff" to learning to be more thankful and living life with purpose.
When she's not hitting the books or performing administrative duties at LIFE, Dixon-Sallie's free time is filled with her children's track meets and basketball games — her daughter runs varsity track for Altoona High School and her son plays AAU basketball for North Metro Elite. And she has a time-honored personal tradition to help alleviate stress and celebrate her accomplishments: at the end of every school quarter, Dixon-Sallie treats herself to a full body massage.
At home, often the four members of the family will be at the table together, working on homework in their respective studies. Dixon-Sallie says, "My husband and I are being the change that we want to see for our children. They see us studying hard and not waiting until the last minute to start projects and making sacrifices; they will remember this and use it for their strength."
Meanwhile, they can see the light at the end of the tunnel – Dixon-Sallie has just two quarters left until graduation, and her husband graduates this month. "Not only are we excited, but our children are cheerleading us on to the finish line," she says.
LEARN MORE:
Faces of LIFE is a story campaign that showcases members of the dynamic LIFE community, including faculty/staff, students, alumni and health science professionals. Interested in being featured or nominating a candidate? E-mail LIFENews@LIFE.edu. Read more Faces of LIFE stories.