Faces of LIFE: Marwyn Bhanderi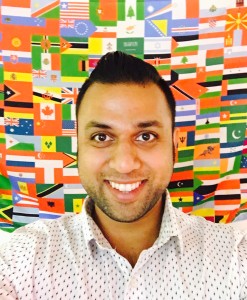 Marwyn Bhanderi
Ten Careers in One
Student: Doctor of Chiropractic
April 2016
London-born Marwyn Bhanderi was working as a general manager of a North Carolina hotel when he hired a professional carpet cleaner who would set him on an entirely different path. Striking up a conversation, the man asked Bhanderi what brought him to the hotel.
Bhanderi says of his career ambitions, "To be honest I didn't know what I was going to do. I thought about engineering, then went into biology during undergraduate, thinking I'd pursue dental school." After he graduated, he felt disillusioned by the working world and his higher education aspirations. He went into business in the hotel industry, unsure of his next steps.
That day, he explained to the carpet cleaner that he'd studied biology but wasn't interested in a medical or dental path because it didn't match his philosophy. "And then he told me about Life University," recalls Bhanderi. "His daughter went to school here – she was a chiropractic student." For the first time, Bhanderi learned about Chiropractic and considered a chiropractic career.
He describes it as a fateful twist of timing — just as he was hearing about Life University and Chiropractic for the first time, Bhanderi was in a new phase of reconnecting with himself through meditation, and in turn he developed a more positive outlook on the world. So when he heard of Vitalism and a whole-body view of health, it impacted him deeply. He laughs, "It sounds kind of random, but I feel like until I was ready to understand what Chiropractic is, it showed up in my life."
While in Atlanta for a hotel conference, he made his way to Marietta to visit Life University. "As soon as I set foot on campus, I knew this was it, I felt a vibration – I had to be here," he says. "I thought, wait there is a profession with this philosophy? I've been looking for this for years!"
He enrolled in July 2013, hoping to trade in his string of 'misfit jobs' for a new career, where he foresaw himself being his own boss, opening up a chain of chiropractic practices. "Chiropractic is the perfect business," he said of his first impressions; he was drawn to LIFE for the philosophy without understanding exactly what a chiropractor did yet. In fact, at orientation he asked, "What can I do with a D.C. degree if I don't practice?" He'd foreseen himself as a chiropractic businessman, a proponent of vitalistic philosophy, but hadn't quite envisioned himself as a chiropractor yet.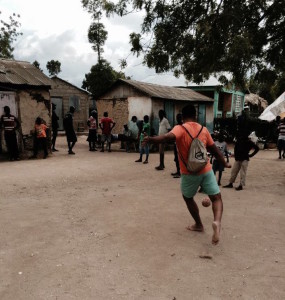 "After everything I've seen now, I have to actually practice myself," he laughs, now excited for the hands-on work of Chiropractic as well as the business side. But it's the multifaceted, entrepreneurial spirit of the profession that continues to surprise and challenge him. He's learning adjustments and specific techniques; he's traveling abroad on service trips to underserved communities; he's participating in public speaking events. On a service trip to Haiti he practiced adjustments on lines and lines of people with whom he didn't share a language. Conversely, in a format where you're judged by what you say, he competed in Talk the Tic in Mexico, learning his speech in Spanish in less than a week. He says, "I didn't realize my horizon would be expanded so much. I feel like I'm constantly putting myself out of comfort zone. It's almost become an addiction – it's like I've got to find the next challenge."
This year he'll travel to the World Congress of Chiropractic Students in Paris and then take a service trip to Peru. Wherever he travels, he feels that Chiropractic allows him an authenticity and heart-to-heart connection you don't find in other professions; he thinks that once people learn about Chiropractic they recognize that it, like love, is a universal language. The desire to take care of other people, to help them feel better and to encourage them to reach their optimal potential is something understood worldwide.
Bhanderi expects to graduate in late 2017 and is excited to see what change the future holds. He says, "Chiropractic is multifaceted in how it will grow you: entrepreneur, public speaker, becoming a better person in general. It's like learning 10 different careers in one."
LEARN MORE:
Faces of LIFE is a story campaign that showcases members of the dynamic LIFE community, including faculty/staff, students, alumni and health science professionals. Interested in being featured or nominating a candidate? E-mail LIFENews@LIFE.edu. Read more Faces of LIFE stories.