Faces of LIFE: Miriam Goodfriend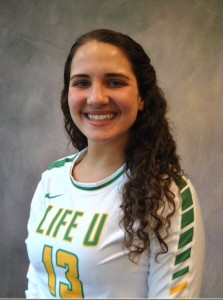 Miriam Goodfriend
Banana Pancakes, Team Effort and Volleyball
Student: Exercise Science
September 2015
At 17-years-old, Miriam Goodfriend is the one of the youngest players on Life University's (LIFE) new volleyball team, as well as the first to sign. Her decision surprised her community – Goodfriend has attended a private Jewish day school her entire life, and the close-knit community expects students to move on to larger universities with a solid Jewish presence. "I really like playing volleyball, and I was the first girl ever from my school to sign for a sport," she adds. So not only was Goodfriend heading to a small school her community didn't know much about, but she was to be a student-athlete. "People are still asking, 'You're doing what?'"
Fortunately, Goodfriend is pleased with her off-the-beaten-path decision. "I'm so happy here it's crazy!" she laughs. A devoted volleyball player since 6th grade, she played school and club volleyball for years. She wasn't sure whether she would continue to play in college, so when she heard that Life University was forming a program from scratch, she knew signing on would be a leap of faith. She says, "When you're looking for schools to go to, you look for schools with teams. You don't say, 'Hmm, I wonder which schools don't have a team.'"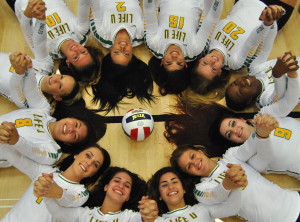 Her experiences playing club volleyball especially pushed her to continue to play in college. "My team was so close, and we had great chemistry, which honestly in women's sports can be kind of rare," she says. She says you can spot a successful team by their chemistry, and she loved being best friends with her teammates. "That's why I wanted to play in college; there's no bond like the one you have with a teammate." She likens facing obstacles on the court with real-life challenges, things teammates must overcome together to be stronger as athletes, students, leaders and friends.
After Goodfriend signed on to the first-ever LIFE volleyball team in February, she watched her new teammates trickle in after her. The team spans a wide set of ages: 17 to 23. For the freshmen like Goodfriend, this team is one of a series of firsts – first year at college, first dorm, first time living away from home. For the upperclassmen, they've already had years of collegiate volleyball, let alone college, under their belts. But the one thing all the women have in common is that LIFE's volleyball program is entirely new; age does not grant seniority. Coach Steve Wilcosky repeats the refrain "growth mindset" to the team, encouraging them to always be learning – about each other, about their sport, about being a team.
"Whatever traditions we do right now, whatever tone we set is going to be the tone for the whole program," says Goodfriend. "I have four years to spend here, so I can see [the program] develop and grow. Day by day we learn more about what kind of volleyball program we want to be."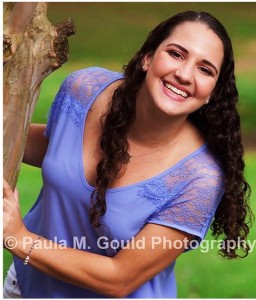 Goodfriend contends that she went from one small close-knit community to another; with all of LIFE's athletes housed in the Commons, she's in an open-door community of likeminded people. "Everyone is an athlete and understands what you're going through," she says. "If you see someone shuffling back from the gym, you think, 'They just had a hard practice. I just made cookies … let me go get them a cookie!'" Her teammates are also just a wall away, constantly piling into each other's rooms between classes and before practice. "I'll scream up and hit the ceiling with my broom and yell, 'You wanna come make banana pancakes?'" she laughs. "You'd think we'd be sick of each other, but we're all signing up for the same classes."
In class, Goodfriend studies exercise science on the path to becoming an occupational therapist. She's always been involved with people with special needs, and wants to pursue a career where she can help people function at their best. "Occupational therapy is basically physical therapy for people who can't do everyday things like eating and writing, running and playing," she says, remembering sitting with her brother, who was suffering from a stress disorder, when he visited an occupational therapist. "You really impact someone's life and help them for the future to go out and be active people. That's something that a lot of people with special needs don't get the chance to do; they just fall through the cracks. I want to be a part of the change."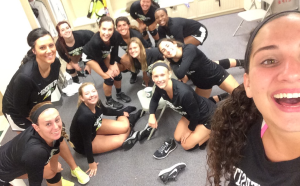 In her free time, she loves to sing and has a secret place on campus where she goes to play her ukulele. "When I came here, I was like 'I'll never be able to sing!'" she laughs, "Especially when there are six people in every room at all times." Though she occasionally misses the privacy of closed doors, she takes to LIFE's expansive campus to find places to sing freely. If students hear strains of a tune floating down Barclay Circle, odds are it might be Miriam Goodfriend.
For now, Goodfriend has plenty of hopes for the volleyball program going forward, from the overall goal of continuing Coach Wilcosky's "growth mindset" to her love of the jerseys ("Keep the jerseys because the jersey's really cute!"). But one of her main goals goes out to the LIFE community. "I hope the program keeps the support of the LIFE students," she says. For their first game, she says the team was nervous that they would just have four fans – Goodfriends' parents and someone else's. But when they saw the LIFE turnout in their bright green colors, they were incredibly grateful to have the support of the University. She says, "The support we get from the fans here is unlike anything we see at away games. I hope everyone on campus stays just as excited as they were for that first game."
Faces of LIFE is a story campaign that showcases members of the dynamic LIFE community, including faculty/staff, students, alumni and health science professionals. Interested in being featured or nominating a candidate? E-mail LIFENews@LIFE.edu. Read more Faces of LIFE stories.