Faces of LIFE: Patience Canty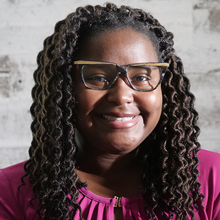 Patience Canty
A Mission of "Touch Healers"
Student: Doctor of Chiropractic
February 2019
From Greenville, South Carolina, Patience Canty is in both the Doctor of Chiropractic and Positive Psychology programs here at Life University. Canty relates, "I really believe in the three T's from subluxation (toxins, traumas and thoughts), and I feel that Chiropractic really covers the toxins and traumas portions, but I also wanted to educate myself on the thoughts portion through the Positive Psychology program."
Canty says that it is her goal to use positive psychology to help her future patients not only with removing their physical subluxation, but with removing negative thoughts as well. She says that she can adjust someone and relieve the subluxation, but if they may still carry a mental subluxation, that will need to be removed as well. To help accomplish this, Canty will help them become more aware of their negative thoughts and then help remove them. Next, she will adjust them, and she says that their adjustments will hold better and since they are not holding on to their mental stress.
Previously, however, Canty was not at all familiar with Chiropractic. After having just put in an application to school to become a physician's assistant, Canty's mother was the one to introduce her to it. Her mother had been seeing a chiropractor, Dr. Brandan Lee in Rock Hill, South Carolina, for some neck pains and spoke highly of him. At that time, Canty says that she had not been feeling particularly motivated by her decision to become a physician's assistant after shadowing a few P.A.s and M.D.s and realizing that they "just kind of walk around and prescribe medications all day." So when her mother made her familiar with Chiropractic, she was amazed that she had never looked into it before. She then shadowed Dr. Lee, and that led to an internship where Canty could get a better feel for Chiropractic. She says, "I realized that it's more about connecting the brain back to the body and not just a 'fix the neck pain' adjustment."
Canty explains what she feels is Chiropractic's most appealing aspect, "I think that one of the most endearing points about Chiropractic is that doctors really take the time to pay attention to their patient's whole story to get down to the real reason why things may be occurring in their body. It also really helps determine why they're having trouble holding an adjustment."
On LIFE's campus one day, while doing some research about places to PEAK or practice as an associate after graduation, Canty decided to attend a campus career fair. While there, she put her name on a raffle sign-up sheet and thought nothing of it for a few weeks. Then MaryEllen Leffard, Director of Alumni Relations, called her and said that she had won a mission trip to Haiti where she would be working with Dr. Peter Morgan. Canty says, "I was floored and so excited!" And since she could choose when she wanted to go, Canty decided to wait until fall break so that she would not miss any classes.
This was Dr. Morgan's 88th mission trip to Haiti and the Dominican Republic. He has been doing this for decades, going multiple times a year to adjust and teach the people there about Chiropractic. Also, after the 2010 earthquake in Haiti, Dr. Morgan was vital in helping connect displaced children with parents. For those who had unfortunately lost their parents, he took them in and created an orphanage for them in Haiti. Canty praises, "He's doing phenomenal work there, and it was a blessing to see how much they love him."
Canty compares Dr. Morgan's work to Life University's guiding principle of Lasting Purpose when she says, "He really goes there and does the work. He serves the people. He loves the people. He gives back to the people and he does it all selflessly with no expectation of getting anything in return except for them to learn about Chiropractic and become healthier and more vital."
With about 30 people, consisting of both students and doctors, the mission party went to, among other areas, a fishing village in Labadee and to Ouanaminthe, a larger city near the border with the Dominican Republic. While in each, Canty met the residents, learned their stories and helped to perform adjustments. In turn, they showed her their beautiful cities and taught them all about the history and resilience of the people in response to the devastating 2010 earthquake, from which they are still striving to put their lives back together. "We also saw lots and lots of beautiful children, and we got to teach them about Chiropractic and show them a different way of looking at life. To see the appreciation and gratitude on their faces is a moment that I'll never forget."
Canty experienced several times where people would see them in their village and would run off to get their relatives, a grandmother or father, and say, "The last time you were here, you helped me, so I know you can help them too."
Many emotions were experienced during her trip, Canty says. "It made me feel humbled, scared, anxious, excited, happy and sad. I experienced the full gamut of emotions that one could experience!"
Canty notes that there were some individuals who could tell that they were not from Haiti and were simply curious about them, but overwhelmingly they visited them for chiropractic care. She explains, "They would come up to us and point to where they were experiencing pain to kind of tell us where they wanted us to focus our attention. The expectation to get better through the use of Chiropractic is there because of Dr. Morgan's work. He told us they call the people who come there on missions 'touch healers,' but it was I who was truly touched by them."

LEARN MORE:
Faces of LIFE is a story campaign that showcases members of the dynamic LIFE community, including faculty/staff, students, alumni and health science professionals. Interested in being featured or nominating a candidate? E-mail LIFENews@LIFE.edu. Read more Faces of LIFE stories.