Faces of LIFE: Rosana Lopez Rodriguez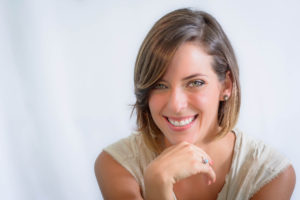 Rosana Lopez Rodriguez
A Rollercoaster of Growing
Student: Doctor of Chiropractic
August 2016
Rosana Lopez Rodriguez spent her childhood in Puerto Rico on her feet — she danced ballet. But when she began working in retail, working her way up to manager, she traded in her pointe shoes for high heels. The long hours of standing in heels began to ruin her feet, and would go on to unravel her health in unexpected ways.
"My foot got swollen so badly I couldn't put weight on it," she remembers. Someone had to help her to get around a room, and she began trying wraps and applied heat and cold. She visited two podiatrists, one who recommended surgery and another who treated her with intravenous muscle relaxants. When those medications damaged her gastrointestinal tract and bladder, Rodriguez then began taking drugs to assist her now overactive bladder. "I couldn't go to the movies or even just hang out — I need to 'go' every 10 minutes," she recalls. With her injured foot, she had to use a wheelchair at the grocery store and on a trip to Disneyworld. She says, "I was 26 years old. And those symptoms lasted for two years."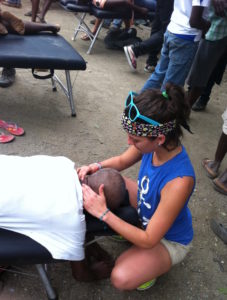 When a friend recommended she visit a chiropractor, Rodriguez was confused how a "neck and back pain" doctor could assist her feet and GI system. But once her friend, a student at Life University, explained how chiropractors correct interferences in the nervous system, Rodriguez was intrigued. She was also so desperate for change that she was willing to try out any suggestion, even if Chiropractic isn't very present on the island of Puerto Rico.
In Chiropractic she found the transformation she'd been hoping for. "After a month and a half, I was able to walk normally without anyone's assistance. I quit the medication," says Rodriguez. "I learned the body has the ability to heal itself and that there are a lot of people in the world like me who are ignorant of this. And if I know this truth, I need to share it with them."
Though her bachelor's degree is in public relations, Rodriguez was determined to become a chiropractor, switching from communications to science to become a passionate advocate for the health care that changed her life. While Palmer College of Chiropractic went to the top of her list due to its proximity to the beach, Rodriguez attended a LIFE Leadership Weekend at the insistence of her friend and fell in love with Life University's vitalistic philosophy, which matched her own health story.
"It has been a rollercoaster of growing!" Rodriguez says of her time at Life University; she enrolled in the pre-DC program in 2012. In winter 2013, she started the Doctor of Chiropractic program. "That was my first quarter, the quarter I wanted to be the best student, with the best grades, to study until the library closed and to go to sleep at 3 a.m. I made no time for me, no balance at all. My friends told me 'you need to stop,' I didn't hear them."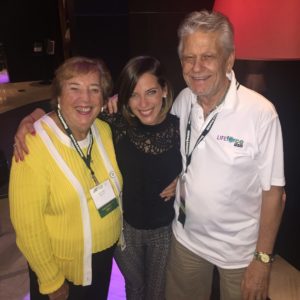 Rodriguez failed the quarter. After that, her GPA was so low that she did not receive good enough grades for reevaluation of her loan. When Dr. Deb Roche, Senior Academic Adviser and Assistant Professor, asked her what she wanted to do, Rodriguez told her, "You're going to register me because I'm not going back home until I'm a chiropractor." She recalls that Dr. Roche laughed and affirmed, "That's good," enrolling Rodriguez in another quarter, where she took just a few classes to begin building her GPA enough to earn back her loan.
Now in her seventh quarter, Rodriguez knows the challenges of first quarter only add to her chiropractic story. After all, she laughs, "The one class I passed was a B in Chiropractic Philosophy." She's now attending seminars, clubs and chiropractic mission trips, as well as part of the board that began C7, a group of chiropractic students from Puerto Rico determined to expand Chiropractic on the island. She plans to graduate in 2018 and move back to Puerto Rico to open a practice in San Juan.
"Some people take for granted dancing or jumping. For me, it's not like that," says Rodriguez of the ailments that brought her to her life-changing experience in Chiropractic. "And this is the way I need to pay back to the universe what it did for me. That's my story!"
LEARN MORE:
Faces of LIFE is a story campaign that showcases members of the dynamic LIFE community, including faculty/staff, students, alumni and health science professionals. Interested in being featured or nominating a candidate? E-mail LIFENews@LIFE.edu. Read more Faces of LIFE stories.