Faces of LIFE: Ryanne Shea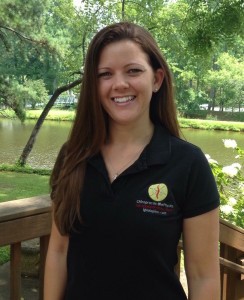 Ryanne Shea
All Signs Point to Green
Student: Chiropractic
March 2015
Ryanne Shea lived in Las Vegas, fitting frames to faces as an optician. Though she loved her job selling eyeglasses, there was no room for growth at her company. When she announced her search for a new job, her friend threw her an out-of-the-box option: "My chiropractor needs a front desk assistant!" Shea had no idea what Chiropractic was, but she knew she could manage a front desk. From her seat in the lobby of a chiropractic practice, Shea noticed two major elements about her new gig: the patients came in with smiles, and they left with incredible results. "I was like, 'Okay, what is going on here?'" she recalls. "So I started getting care myself and it was an instant life-changer."
A headache sufferer for six years, Shea visited a local Chiropractic BioPhysics (CBP) practice that performed corrective care. It turned out that car accidents had caused trauma to her spine. "They reversed all of that for me," she says. "And now I've been eight years without a headache. You can't deny that. Once you've experienced something like that, you can't go back." She's particularly passionate about CBP, saying, "That's when I was able to relate it to real life. It's all postural settings: you hurt because you're laying like this or your job makes you do this, and you've got to retrain your body to create an opposite effect. That just completely made sense to me."
Shea wished to give this life-altering experience to other people and decided to make a complete transition to a career in Chiropractic. When researching schools, she'd never heard of Life University (LIFE). She was set on going to California when a chiropractor friend recommended a visit to a small university in Marietta. "My friend said, 'It's in Georgia,'" she remembers. "And I was like 'Georgia? Why would I ever go live over there?' I'm a desert rat, a desert girl."
They began making plans to visit LIFE, and then her friend contacted an old colleague who is a LIFEforce 1000 doctor. Shea was immediately invited out to a LIFE Leadership Weekend – all expenses paid – for the very same weekend she was already planning her visit. "That was the first moment that was like a-ha," she says, describing her journey to LIFE as a series of signs.
She describes LIFE Leadership Weekend as one of her best experiences at the University, a "hoo-rah" event that completely sold her on her future. "They show you the campus, you meet some of the professors, you hear from Dr. Riekeman. And there I am, seeing all these trees!" she says. "And I'm like 'Okay, I like the color green.'" Her grandmother's name is Marietta, so the location had another symbolic touchstone for her. "Pieces kept falling into place for LIFE. I knew it was meant to be."
LIFE's verdant campus was a myriad of fall colors on Shea's visit. "That was the most beautiful nature experience I've had in my whole life," she says of her initial visit. "I love the desert, but this was totally different. I wanted to be outside 24 hours a day. What I love about the campus is that it's not fully concrete, unlike all the pavement in the Midwest. It's nice to be able to walk in the dirt, to walk in the grass."
Now a thriving DC and Biopsychology student in her sixth quarter, Shea stays busy on campus. She's one of the board members for the Campus Activities Board (CAB), which seeks to create by-student, for-student involvement on campus. One of her biggest projects is the inaugural Life University Technique Summit & Philosophy Night, which takes place Friday April 10.
"We've pretty much created 'speed dating' for technique clubs," she says of the Technique Summit, which will engage DC students in all the different techniques offered at LIFE. "Every technique gets 10 minutes to present what they do and why, and what their contribution is to Chiropractic." After a breakout session and dinner, LIFEforce 1000 and Dr. Gilles LaMarche will combine with the effort, providing Dr. LaMarche's Philosophy Night, which will feature two doctors discussing philosophy.
Shea's goal for the event is to create unity within the practice. "So even though we have all these expansive techniques, our ultimate goal is always the patient, always getting people healthier. I want us to recognize that each of us is contributing to that and support each other, so we can build our referral and support systems in Chiropractic."
Her post-graduation plans include traveling internationally to meet up with her mother, who lives abroad, and practicing Chiropractic throughout Europe. In the meantime, she is enjoying the greenery of Georgia, citing hobbies of walking her dogs in the mountains, having picnics with her boyfriend, Chris, and spending evenings out salsa dancing. She comments that though Atlanta's salsa dancing scene isn't as vibrant as the one in Las Vegas, she finds comfort in the universality of the steps. "No matter where you are in the world, people still know the basic moves."
Faces of LIFE is a story campaign that showcases members of the dynamic LIFE community, including faculty/staff, students, alumni and health science professionals. Interested in being featured or nominating a candidate? E-mail LIFENews@LIFE.edu. Read more Faces of LIFE stories.