Faces of LIFE: Shayla Lobdell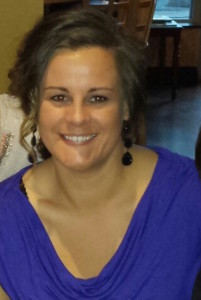 Shayla Lobdell
From EMT to DC: Taking the Holistic Path
Student: Chiropractic
March 2015
Around the Life University (LIFE) campus, D.C. student Shayla Lobdell is known as 'the hugger.' During her pre-DC year, she wore a sign that read "FREE HUGS" and received 64 hugs that day. She's thinking about doing it again during finals week to crack some smiles around campus. "I hug everybody I see; if you know me, you know you're getting a hug," Lobdell says. She knows this is true of many chiropractors. "We are very tactile, kinesthetic people, learning our environment by touching."
While Lobdell has been a hugger her whole life, an interest in Chiropractic wasn't such a steady factor. She served as a nurse's aid in nursing homes before beginning a seven-year stint in the culinary field, working as a chef. She spent her days making veal in smoked parmesan sauce with wild rice waffles, or lobster mac and cheese with white truffle oil; her favorite gig was working as a Sous Chef at a fine dining French American bistro. "It was fun but it was really stressful," she recalls.
Ready to depart the restaurant industry and get back into the medical field, Lobdell earned her EMT certificate and was soon making emergency rounds in an ambulance. She says, "I fell in love with that. The adrenaline of working on the ambulance was addictive. Saving people's lives was very rewarding." She worked as an EMT for three years until the stress level became too much, and she knew it was time to find something new.
Lobdell switched to hospital work, serving in the Medical/Surgery Unit, where patients recover from surgery. At Med/Surg, she had a reckoning that would change the course of her life: "Just watching those people trying to recover from surgery was really heartbreaking, and I thought, 'There has to be better way. There has to be some way you can reach these people before they get to this point.'" She began looking into holistic healing and, through her research, was led to massage therapy.
As a licensed Colorado-based massage therapist, Lobdell worked with two chiropractors – both LIFE graduates. "I thought 'This is it; this is how people can get well before they have to get things cut out of them,'" she recalls. "I wanted part of that action, because I wanted to help people and wanted people to help themselves. That's how I got into Chiropractic." Her colleagues pointed her in the direction of their alma mater, and Lobdell soon traded Colorado for Georgia, massage therapy for chiropractic college.
Though she's finally in an atmosphere that matches her beliefs, the geographic transition hasn't been easy. "I grew up [in Colorado] and lived there for 29 years. It was a huge change, going from having the Rocky Mountains as your backyard." She adds, laughing: "It's really funny because everyone says, 'Don't worry, there's a mountain! Kennesaw Mountain!' But if you've ever been to the Rocky Mountains, you know that Kennesaw Mountain is a hill." A fan of downhill mountain biking and extreme mountain biking – "the stuff that roughs you up" – Lobdell misses the steep inclines of her home state.
"Transitioning from the medical model to the chiropractic model is also a huge difference, obviously," she says of her other transition, citing that she didn't truly understand Chiropractic until she got to LIFE. "I know there are a lot of people that are completely against the medical model. I'm not necessarily against it. It has a time and a place, but I think of it as an alternative." She had always known there must be a less-invasive way to help people, and her time at LIFE has answered many of the questions she's had on her mind for years.
Besides doling out hugs on campus, Lobdell is a member of the Campus Activities Board, is part of Serving Lasting Purpose and works new student orientation. When she works with new students, she hopes to relay the close-knit LIFE community, reassuring new students that they've found their place in the world. "You come in with your quarter, and those are the people you're pretty much going to be with. Yeah, you'll branch out, but those are your people," she says of the microcosms within academic programs. "There's a lot of bonding that goes on here, and everyone comes from different backgrounds, so having a common goal in a world of people who don't always understand – you're like 'finally, people who get me!'"
Her future goals include potentially opening her own practice in Peru or returning to work with her former colleagues in Colorado. In the meantime, if you see a woman around campus wearing a "FREE HUGS" sign, be sure to say hello to Shayla Lobdell – and be prepared for a big embrace.
Faces of LIFE is a story campaign that showcases members of the dynamic LIFE community, including faculty/staff, students, alumni and health science professionals. Interested in being featured or nominating a candidate? E-mail LIFENews@LIFE.edu. Read more Faces of LIFE stories.