Faces of LIFE: Shelia Wood

Shelia Wood
Recipes for Life
Physical Plant Office/Workflow Manager
September 2015
Shelia Wood grew up in Nashville, Tennessee before moving to Atlanta, Georgia in her early twenties and establishing roots in Paulding County. With these hometowns and a family lineage of Southern cooks, she has a natural knack for cooking and entertaining. Her home is often filled with her kids, their friends and friends-of-friends, everyone referring to her as "Mama Shelia" as they help themselves to seconds of fried chicken.
For 10 years, Wood ran a catering business out of her home, in a career path she didn't see coming. Prior to that, she'd worked in sales, selling everything from vacuums to cosmetics to carpets; she met her husband Michael when she sold him a water treatment system, and married him just three weeks later. But when she became a stay-at-home mom, volunteering at her children's schools, she didn't expect that catering would become her latest pursuit. After providing the food for a friend's baby shower, Wood was approached by a shower attendee who asked her to cater a 200-guest wedding. She remembers, "I said 'Sure!' I didn't know how much to cook for 200 people, but I did it. And from that, four more people asked me." Her kids, Christine and Austin, grew up around weddings, putting on table skirts and pulling dishes from the fridge – she was known for her grilled pork tenderloin with honey mustard sauce and her herb-crusted eye of round.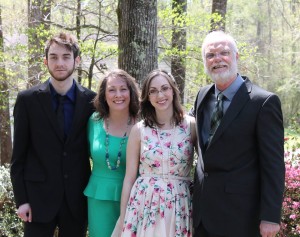 She eventually gave up the business when it became physically too much from her, limiting her cooking to family and friends again. She says, "Do you know I still have people call me and ask me to make honey mustard for them? Still to this day." And she is suspicious of anyone who doesn't eat her food — something her daughter heeded, warning any boyfriends coming over for dinner. "If you don't eat my food, I don't trust you," Wood laughs. "There's something's wrong with that!"
Now Wood works as the Physical Plant Office/Workflow Manager here at Life University (LIFE), but co-workers can still get a taste of her cooking any time they read the staff e-newsletter – she often lists a family recipe. When discussing how some cooks keep their recipes a secret, she shakes her head. "Food is always meant to be shared," she says. "It's a focal point for every family get together we have. Food is supposed to bring people together." The recipes she shares with the LIFE community are family hand-me-downs that have been made for generations.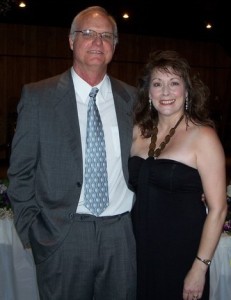 Recipes are a small way that Wood contributes to the LIFE community. When she was between positions in 2013, she researched Life University as a potential employer. "I went on the website and read all about what LIFE was about," she recalls. "I read about the Eight Core Proficiencies and the 2020 vision, and it really spoke to my heart and was something I wanted to be a part of. I sought out a job here." After two positions didn't pan out, she was hired for a third position with Office of Institutional Effectiveness, Planning and Research (OIEPR). When her skills were noticed, a new position was created for her: Office Manager of Physical Plant. Later her job would expand to include Workflow Manager of Physical Plant.
What does Physical Plant do? "If it's broken, we want to fix it for you. But you have to tell me about it! Which is why we set up the fixme@LIFE.edu email," says Wood. "Physical Plant provides support to every department on the campus by maintaining an environment that is conducive to learning and working productively." Some of Physical Plant's many responsibilities include maintaining plumbing, electrical, HVAC, potholes, painting and the fire system across campus. Wood says, "We don't always get it right, but we sure try hard. We're really good as a team at pulling together and finding creative solutions."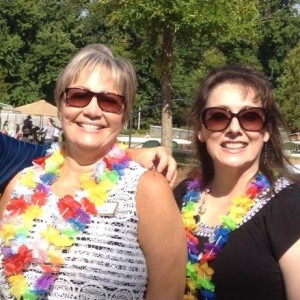 She's also incredibly involved on campus, serving in a catalog of committees: she is part of the Fall CE committee, the Conduct Review Board, the Faculty and Staff Campaign Committee, and more. She writes for the faculty/staff newsletter. And when she can, she tries to take advantage of LIFE's walkable campus and commute to meetings on foot. Wood recommends that faculty and staff join a committee to get to know a different side of the University. "It lets you see what's going on in the background. It helps sometimes to know the 'whys,' and it's also a great way to give back to the University."
Her goal here at LIFE is to determine better ways to support the mission of the University through her department; she wants to be a part of LIFE reaching its 2020 vision. And in the meantime, every day brings a new challenge and plan of action in Physical Plant. "You could be having a perfectly quiet day then all of a sudden you have a fire alarm going off somewhere," she says. "You don't know until you actually get there if it's a false alarm. Every time we set out, it's the real thing for us."
Faces of LIFE is a story campaign that showcases members of the dynamic LIFE community, including faculty/staff, students, alumni and health science professionals. Interested in being featured or nominating a candidate? E-mail LIFENews@LIFE.edu. Read more Faces of LIFE stories.