Faces of LIFE: Stephanie Davidson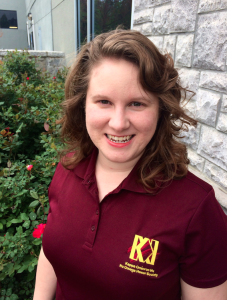 Stephanie Davidson
Holistic Care for Student Performing Artists
Student: Bachelor of Nutrition, Doctor of Chiropractic
April 2015
Currently finishing up her Bachelor's in Nutrition and in her fifth quarter of the Doctor of Chiropractic program, Stephanie Davidson's first love was music. "My personal happy music would be considered Baroque classical," she says. "I think my favorite would be Vivaldi's 'Four Seasons.' There's also a lot of great Bach."
This love of music propelled the Jacksonville, Florida native to earn a bachelor's and a master's in education, specializing in music education. Through a connection with a college professor, she was assigned to become a department head at a private K-12 school in Hattiesburg, Mississippi. There, she built a music program from the ground up. She says, "It is very rewarding, when you're working with kids and seeing that potential happening." Serving as the department head for three and a half years, Davidson oversaw the program as it grew to have yearly recitals, and the students began competing in and winning competitions.
"Because I was in a relatively disadvantaged area, more rural," she says, "[the kids] really hadn't been exposed to what someone else might call 'culture' – and it really is a mind-expanding thing. My favorite thing was to see them realize that such a thing existed in the world and that they could be part of it."
Through that experience, she says she saw many kids who needed hindrances removed before they could do what they wanted to do. Whether the hindrances were behavioral or physical, Davidson felt like she needed to help her students more. "I felt like while I was good at what I was doing, I could be good at helping to remove those hindrances as well. That's what led me back to school," she says. If she were to assist student performers with their ailments, to get them on a path to wellness that would allow their musical passion to flourish, she would need to have a professional degree to do so.
"I didn't have any desire to sit through four plus years of drugs and surgery," she says. "I didn't want to experience that indoctrination, in essence, even if I could come out of the other side feeling the same way." Davidson chose Chiropractic as her route, and specifically Life University (LIFE) for its location and holistic approach. Because of the science prerequisites needed to pursue Chiropractic, she enrolled in the Nutrition bachelor's here at LIFE to get her on the D.C. track. She says, "I chose Nutrition because I felt like it was something that was going to be key in what I wanted to do in working with performing artists and students. No glucose and the muscles don't go."
The vitalistic nature of Chiropractic appealed to her, as her personal background is in homeopathy, a form of alternative medicine that focuses on providing the body what it needs and not trying to "correct" the body with drugs and medicine. When Davidson was in elementary school, her mother had serious health problems and was told by a doctor that she'd be in a wheelchair in 10 years. A friend recommended they visit a doctor who practiced homeopathy, and ever since the Davidson family has used homeopathy in their own lives. Davidson had never considered pursuing it as a potential career path until she went on to teaching.
What exactly is homeopathy? "You go to the doctor and you have a runny nose, they'll give you something to stop your nose from running," Davidson explains. "What homeopathy does is to take a substance, like an onion, that would make your nose run on its own – runny nose, watery eyes. And they take that substance and process it until what's left is the energy. Homeopathy is much better understood in terms of quantum physics than it was previously. They're extracting the energy from that substance and providing that energy to the body, and that energy gives the body enough to move past to the next thing."
Here at LIFE, Davidson quickly became active on campus. Her email signature says it all: Nutrition Clinician at the Campus Center for Health and Optimum Performance (CC-HOP), Funded by Foot Levelers; Chair of the Student Council Academic Committee; Editor and Student Council Representative of Nu Omega; Treasurer for the Activator Club; Treasurer for the Bio-Geometric Integration Club; and even more. Her favorite part of the University is the opportunity to get involved. She likes that there are so many different chiropractic clubs and recommends getting involved to connect what you're learning in the classroom to real-life situations.
After graduating, Davidson's goal is to move back to Florida, where she has connections both in the vital health and music education communities. She hopes to open a practice that is open to anyone but puts focus on student performing artists, particularly those very early in their education who are considering going down the professional track. She says, "The unfolding of potential, whatever it may be, is what I'm trying to achieve."
Faces of LIFE is a story campaign that showcases members of the dynamic LIFE community, including faculty/staff, students, alumni and health science professionals. Interested in being featured or nominating a candidate? E-mail LIFENews@LIFE.edu. Read more Faces of LIFE stories.