Faces of LIFE: Stephanie Mahan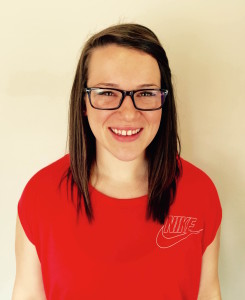 Stephanie Mahan
"That Chick's Pretty Strong!"
Student: Doctor of Chiropractic
July 2015
Sitting in organic chemistry at Life University (LIFE), D.C. student Stephanie Mahan spied a classmate across the room who was blonde and muscular, always wearing powerlifting T-shirts. The student was Vanessa Gale, founder of PrettySTRONG Powerlifting here in Marietta. "I was a little intimidated by her at first," remembers Mahan. "She looked really strong. I was a little 19-year-old who didn't know anybody in a new city. I thought 'She looks really cool, and I kinda want to be like that.'"
After introducing herself to Gale, Mahan took an intro class with PrettySTRONG Powerlifting at Marietta's CrossFit on the Square. Though that first class was tough, she learned she had a knack for lifting weights. "There was always a desire in me to be a strong girl, to be athletic," she says, though it wasn't something she had pursued outright. "In high school I was in band; the only athletic thing I did was carry around a 30-pound baritone saxophone on the marching field."
Mahan joined Team PrettySTRONG, with Gale as her coach. That first class was in fall of 2012. By March 2013, Mahan was competing and—one year later—she represented the U.S. in the World Powerlifting Championships. A powerlifting natural, from the start Mahan quickly improved her three lifts: the squat, which she describes as very difficult; the bench press, the most technical; and the deadlift, a test of all-out power. After 2.5 years, she can now lift 325 pounds in the squat, 176 in the bench press and 347 in the deadlift.
"It's been an awesome experience!" she says. "I went from benching more than I squatted to competing, then going to Worlds. Last year [2014] I went to South Africa for Worlds, and that was my third competition ever." After tying for second in her weight class at Nationals, Mahan got the spot at Worlds when the first place winner decided to move down a weight class, and the other second-place winner aged out of junior-level competition. The next year Mahan earned her place at World's on her own accord by winning Nationals with her entire family in the audience.
For the most part, she's often in her own head when competing. "My goal is to lift every single thing that I plan to lift." She breaks down the sport, describing how you get three attempts at each lift. "The first attempt is often something that you've regularly practiced so that you can get a number on the board. The second attempt is heavier and something you don't do often. And the third attempt is something that you've never done before," says Mahan. "You go for it. But it's not too far out of reach, because you train for this." That third attempt is often when powerlifters make personal records.
And though she kept her competitive focus, Mahan felt the charged atmosphere when her family – parents, siblings, grandparents and godfather – attended the National Championship in Denver. "It came down to this last lift," she remembers. "Vanessa's hyping me up, saying, 'This is yours.' My sister and brother are screaming at me. I'm crying. And I felt this was my time. All I had to do was pick up the weight and put it down." When she made the lift, setting her personal deadlift record of 347, her whole family cheered and cried.
"Finland's not gonna be like that!" she joked at the time with her family, after they expressed their interest in watching her proceed to Worlds. "The girl who ended up winning at Worlds [that year] squats like 100 more pounds than me. People in the world are strong. I was just thrilled to be there."
And while powerlifting is something that Mahan pursues outside of Life University, she's felt its effects on her work and studies. Her strength training has made her chiropractic adjustments more effective, her hands more skilled at applying pressure. "I feel really empowered; I know I'm stronger as a woman, and I'm going to be stronger as a woman chiropractor," she says. "I am going to be able to adjust more and have better ability. I can easily translate that strength over to Chiropractic."
Her goal after graduating is to join her father's chiropractic practice back in her home state of Texas, where her father works as a chiropractor and her mother works as a nutrition and health coach. Chiropractic principles guided much of Mahan's childhood, and when she looked for chiropractic schools, she knew that Life University's vitalistic philosophy would best align with her lifestyle.
Mahan hopes to continue getting stronger and competing in powerlifting throughout her life. "I feel more prepared and more confident in myself and my abilities, and I think that a lot of women need that," she says. "I feel like it's becoming more prevalent in our society today that women want to be strong, and it's okay for them to be strong and speak for themselves. I want that for everybody." She notes that Vanessa Gale's PrettySTRONG team name isn't just about beauty and strength. "We don't want it to be like, 'oh, pretty girls!' We want people saying 'That chick, she's pretty strong!'"
She encourages anyone who's interested – men or women – to take an intro class with Team PrettySTRONG. It just may be life-changing.
Faces of LIFE is a story campaign that showcases members of the dynamic LIFE community, including faculty/staff, students, alumni and health science professionals. Interested in being featured or nominating a candidate? E-mail LIFENews@LIFE.edu. Read more Faces of LIFE stories.