Faces of LIFE: Tara Atkins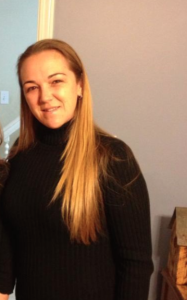 Tara Atkins
Never Too Late
Financial Aid System Coordinator
October 2015
Tara Atkins has been taking business management classes at Life University (LIFE) for six years and working in the Financial Aid department for 15. "I did everything backwards in my life!" she laughs, noting how she got married and had kids first, then began working full-time, and now she's working to achieve her undergraduate degree. It's not unusual for Atkins to spend a school night working on homework alongside her 17-year-old daughter, Skylar.
"I had a baby and got married at 20. I just was content being a mom," Atkins says. "Then I had another baby at 26 and another at 29. I was 31 when I realized I needed to go to school and do something. I'm just about to finish with my undergraduate degree." She expects to graduate next year.
Atkins loves that she and Skylar have homework in common, and how her work ethic is setting an example for her youngest kids, 11-year-old Savannah and 8-year-old Kyle. "I like that my kids see that even though I didn't do this as a traditional student, I'm still pursuing school, and they see I'm succeeding, "says Atkins. "I'm showing them that it's never too late."
Born and raised in the Atlanta area, Atkins has always felt at home here. When she spent a year living in South Carolina, she was all too happy to move back to metro Atlanta in 2000. Her mother was working at the registrar's office at LIFE at the time and suggested Atkins apply for a receptionist position in the Financial Aid Department. "I had no idea what financial aid was," Atkins recalls. "I literally started from the ground zero: I didn't know what a loan was, or a grant. Now I'm here, 15 years later."
Naturally helpful, Atkins grew up thinking she might become a teacher. Her position at LIFE allows her to work directly with students, guiding them through their finances, so they can focus on their studies. She tries to do anything and everything she can for her students. "I try to put myself in their position," she says. "What they need to ask, they don't necessarily ask." She looks for solutions like work-study opportunities. On tours, she tells new students that she loves the small community at LIFE. She adds, "Students are always shocked when I remember their names."
From taking first-quarter students on tours to guiding them through their years at LIFE, Atkins enjoys witnessing her students' academic careers. "Graduation is probably one of my favorite days," she says. "To know them from start to finish and see how they've grown or how their lives have changed."
Soon she will be the graduate, even though her own academic path was a struggle. Atkins' husband, Raymond, is in the Air Force and has been deployed twice in the past three years. Between three kids and a new puppy, Atkins maintains a careful balancing act between home, work and school. Sometimes this meant taking just one class a quarter or skipping a quarter entirely. "I'm determined to finish," she says. "I don't want to quit when I'm so close. I don't want my kids to see me not complete it." She also believes LIFE staff should enroll if they're considering it – with the opportunity to get a free education, she says it's well worth it.
"The things that I've learned in classes, I've been able to bring back into the office," she says. "Especially my business management classes and my computer classes. Dr. George Teston III is fabulous because he's able to relate things that I can do on a day-to-day basis at the office."
Outside of work and class, Atkins loves to refinish furniture and watch movies, citing "The Godfather" as a favorite. She's a big fan of Pinterest and loves finding crafty projects to test out with her kids.
Atkins hopes her new degree will help her advance into new roles here at LIFE. "I hope to accomplish more," she says. And she's excited that just as she graduates from undergraduate, her daughter will just be beginning it.
Faces of LIFE is a story campaign that showcases members of the dynamic LIFE community, including faculty/staff, students, alumni and health science professionals. Interested in being featured or nominating a candidate? E-mail LIFENews@LIFE.edu. Read more Faces of LIFE stories.