Faces of LIFE: Teregi Coleman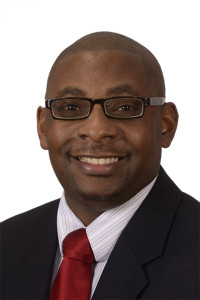 Teregi Coleman
Investing in Ourselves
Financial Aid Counselor
April 2015
Students come to Teregi Coleman, Life University (LIFE) Financial Aid counselor, with money on their minds. Whether they're learning how to receive financial aid, applying for more aid or learning how best to manage their debt, Coleman is ready to answer their questions. He says, "We can have dreams, but there's often a financial component sometimes standing in between us and those dreams, so I'm grateful to be a part of that in someone's journey."
Financial aid is a field Coleman fell into. "I don't think anybody really grows up and sets out saying, 'Hey, I want to work in financial aid!'" he laughs. "However, I've been in it eight years total, and I love what I do."
Originally from Jackson, Mississippi, Coleman moved with his mother and brother to the Marietta area at age 9. During his undergraduate career at Kennesaw State University, he was undecided for a year before choosing to pursue psychology as his major. However, he felt the psychology program was too much theory and switched to business. When that turned out to be another wrong fit for his personality, he found a major called Human Services, which focused on nonprofit administration. "That really appealed to me, being able to do a lot of the fundraising and program management," he says. At the time, he was also working for the Salvation Army as an educational assistant, so he enjoyed actively applying his lessons to his job.
After graduating, Coleman joined KSU's staff as a volunteer coordinator and then a financial aid counselor before joining the LIFE Financial Aid Department in 2010. "I work with some of the best people. I love my coworkers," says Coleman. "The overall culture [of LIFE] is very positive; it's a great environment that fosters growth, in all aspects." Taking advantage of LIFE's employee benefits, Coleman enrolled in the Coaching Psychology program and earned his Associate's degree in two years. He's now pursuing his Master's in Positive Psychology on the Coaching track and expects to finish that within two years.
"When I initially switched out of psychology [in undergraduate], it was something I didn't want to spend time talking about – disease," says Coleman. "Positive Psychology unleashes the human potential; it says that we can accomplish more than we think we can. That's something I can get excited about." Instead of theory, he learns skills that he can immediately put into practice while counseling students at work.
Working full-time and pursuing a degree can prove challenging, but Coleman says it's all about discipline and planning. He feels fortunate that his wife is finishing up her Ph.D. program in Public Health. "It actually works out pretty well for us, because she's studying and I'm studying, too – it's time together," he says.
When he's not working or studying, Coleman enjoys playing basketball, hiking Kennesaw Mountain or going to the movies. After he finishes his Master's, he hopes to have a flourishing life, career and executive coaching business that he would run part-time in addition to his full-time work at Life University.
"I'd encourage staff members to take advantage of the benefits of going to school," Coleman says. "One of the biggest investments we can make is in ourselves. When we invest in ourselves, then when we invest in others, we have more to give."
Faces of LIFE is a story campaign that showcases members of the dynamic LIFE community, including faculty/staff, students, alumni and health science professionals. Interested in being featured or nominating a candidate? E-mail LIFENews@LIFE.edu. Read more Faces of LIFE stories.