Faces of LIFE: The Taylor Docs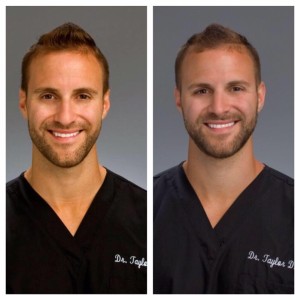 Dr. Cliff Taylor and Dr. Craig Taylor
Twin Ambitions
Alumni: Doctor of Chiropractic, Class of 2014
September 2015
When Drs. Cliff and Craig Taylor open their Buckhead-based office, Taylor Chiropractic and Wellness, this month, they'll have a challenge that few chiropractors face. "Working together in practice is exciting – especially when the patients won't know who's who," jokes Dr. Craig about their practice's "Parent Trap"-esque potential. Drs. Craig and Cliff are identical twins – they've spent their lives with a built-in best friend, roommate, study buddy and now business partner.
The Sandy Springs natives grew up in a medical family, their father a medical radiologist who specializes in neuroradiology and their uncle a neurosurgeon. "We always enjoyed being shown X-rays, MRI's, CT-scans, PET scans, etc.," says Dr. Craig. They looked at these medical scans as puzzles, figuring out what should and shouldn't be on the picture. The Taylor brothers were also interested in weight training and sports, playing tennis, basketball, baseball and lacrosse. Inspired by their family connection to medicine and interest in physical activity, they entered college ready to become medical doctors – then considered dental training – before coming to pursue Chiropractic.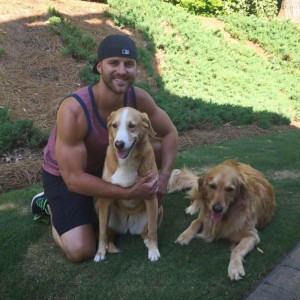 Negative experiences with medicine deterred the brothers from their original plans. Dr. Cliff suffered from lower back pain after years of playing lacrosse during his childhood and while in college at Indiana University. "I saw many different specialists, including an orthopedist, neurologist, physical therapist, a pain specialty doctor, acupuncturist, massage therapist and, finally, a chiropractor," he says. "Each specialist would offer his or her own guidance, but the only one I received immediate and lasting relief from was the chiropractor."
Dr. Craig's story is similar – he played on the same Indiana University lacrosse team as his brother. After two years of collegiate lacrosse, he had a herniated disc and turned to medical doctors to seek relief. "Over a period of a year, I was given several prescription painkillers, three epidural corticosteroid injections, as well as three months of physical therapy," he remembers. "I saw no relief and finally sought out a chiropractor for the first time in my life." After one month of chiropractic care, his pain had completely dissipated. He says, "Needless to say, this was life-changing for me."
The Taylor brothers moved from Bloomington, Indiana back to Georgia to complete their undergraduate studies at the University of Georgia, and they then enrolled in the chiropractic program at Life University (LIFE) in 2011. Happy to be close to family and friends again, the doctors reveled in returning to their hometown. "Growing up in Atlanta, it was a no brainer to attend Life University," says Dr. Craig. "We heard wonderful things about the school, and after visiting, we knew this was the place to be."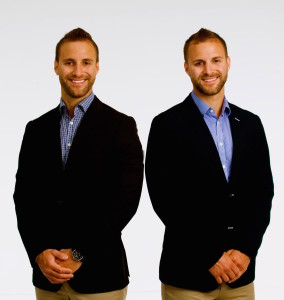 When describing their experiences at LIFE, Drs. Craig and Cliff unintentionally show their twin-ness yet again. Both make a chiropractic pun (for Dr. Cliff, "offered a hand" and for Dr. Craig, "have your back") before throwing in a good-natured "No pun intended." Both credit the family atmosphere of the chiropractic program for helping them get through the curriculum, and Dr. Craig mentions the PEAK program as helping him to prepare for work outside of LIFE.
For Dr. Cliff, his classes lend to his working experience in ways he didn't suspect while sitting in CCE. "At LIFE, I frequently thought to myself, why am I learning some of this stuff?" he says of the curriculum. "But, after being in practice in the real world, I now understand. The more knowledge and background you can cram into your brain, the better doctor you are overall."
After graduating in 2014, they knew they'd take the next step together: opening a practice. What's it like to be twins in business? "We have similar interests and similar mindsets, yet different enough to differentiate us as individuals and each offer our own pros and cons to the business," says Dr. Craig. "Finding the right business partner whom you can trust is tough. Yes, we have our arguments, but in the end, we are family."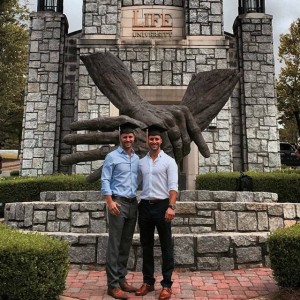 Starting out, finding the location of their new practice was their biggest struggle. Their advice to current chiropractic students: "We suggest giving yourselves ample time to search for a location that best suits you, your family, your friends, your demographics, etc. Be prepared to make the investment; it will all be worth it in the end." They're anxious and excited to open their practice, and they are ready to prove to their clients that Chiropractic is more than 'cracking bones.' "Find out what drives people to get better," says Dr. Craig. "Is it getting back to the gym, or is it being able to drive for 30 minutes a day without pain? Whatever it is, find a way to connect and find the lifestyle they want to live."
Outside of work, the Taylor docs love trying new restaurants, spending time on the lake and walking their dogs. They're both passionate about sports and being active, and have recently taken up CrossFit. They are excited to grow roots professionally in Atlanta.
Says Dr. Craig, "Being able to educate the community we grew up in is a blessing to us, and we cannot wait to give back to the city that has treated us so well."
Faces of LIFE is a story campaign that showcases members of the dynamic LIFE community, including faculty/staff, students, alumni and health science professionals. Interested in being featured or nominating a candidate? E-mail LIFENews@LIFE.edu. Read more Faces of LIFE stories.