Faces of LIFE: Tiffany Brown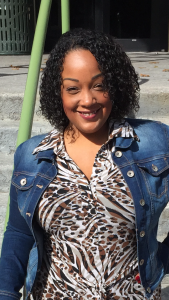 Tiffany Brown
Entrepreneurship in Nutrition
Student: B.S. Dietetics & M.S. Clinical Nutrition
December 2015
Tiffany Brown's childhood ambition wasn't to be an astronaut, princess or president. "I grew up always wanting to own my own business," she laughs. "It's weird because I was nine when I told my mother that I wanted to own my own business." Her aspirations had clear roots: she admired her mother's impeccable work ethic, her uncle's business as a sports lawyer and her entrepreneur grandmother who owned and ran daycares. "She defeated all odds," Brown says of her grandmother, who graduated high school but not college. Brown fondly remembers walking home from school and hopping on the couch with her grandmother to watch "Oprah." Another thing they shared was the helpful business skill of calculating money. "It paid off!" Brown says. "I was a bartender in college. The other girls would go back to the register and I was taking more and more orders, adding it all up in my head."
Brown studied at Oakwood University in Huntsville, Alabama – attending on an education scholarship and playing soccer after class. Adjusting to the South was a big change. "The hugs! I wasn't used to that," she laughs. At the end of earning her undergraduate degree in Business Management and Communications, she was recruited by Wrigley's, the chewing gum company and moved to Atlanta, Georgia.
"My grandma loved Wrigley's chewing gum, so I felt like that was tied to her," says Brown. In seven years working sales and marketing for Wrigley's, Brown learned that she was successful at sales and enjoyed talking to people. The experience brought out skills she didn't know she had, and she would've happily stayed longer if it weren't for two experiences: a car accident and an eventual lay-off. Brown ended up needing back surgery after the car accident and, for the first time in her life, her busy, go-getter schedule was brought to a standstill. "After being this active person, busy working 60-70 hours a week, everything stopped and I had to be sedentary for six weeks in the house," she recalls. "You know how you have a 'kick yourself' and then a 'lift yourself' moment? I had to kick myself, thinking: What am I doing with my life? What do I want to do?" During those six weeks, she read different leadership books, studying leadership styles to figure out how to attain her lifelong dream of owning her own business. She began thinking what that business might be, and knew she wanted Nutrition to play a role in it.
A year later, Wrigley's laid Brown off. "Most people are like 'Oh my God, such a tragedy – a back surgery, laid off,'" she acknowledges. "But I actually took it as a silver lining; if it hadn't of happened, I know I wouldn't have made that change. I was making great money, I was content, there was nothing really pushing me. It took back surgery, six weeks of no activity and being laid off to wake me up."
She knew to build her business she'd need to go back to school. Her chiropractor recommended Life University (LIFE) and Brown enrolled in the Bachelor of Science in Dietetics program in 2013. She's now also enrolled in the Master of Science in Clinical Nutrition, and plans to finish all of her studies in spring of 2017. The healthy, holistic lifestyle at Life University suits her, reminding her of her outdoorsy, wellness-oriented home of Denver, Colorado.
"Life U Dietetics is different because we're small, but we're innovative," she says. "We have state-of-the-art kitchens. Each professor you encounter is a specialist in his or her field – from community to clinical to food service. You get real professional experience from those who have worked it and know it, and you have hands-on access to that faculty."
In summer of 2016, Brown hopes to launch her business: Cooking Preps. An all-in-one box service and nutrition education site, Cooking Preps works on the concept of "we prep, you prepare," designed to bring cooking back to the home. "The reason this business was conceived was that when I had my back problem, I couldn't cook like I used to cook," she says. "And I realized when you're busy all the time, you don't want to come home and chop an onion." Hectic schedules often lead to fast food meals and foods that are heavy in salt, fat, sodium and grease.
"Cooking Preps helps you use natural, additive-free ingredients with customized recipes serving from one person up to 10," says Brown. The boxed component delivers fresh ingredients and meal plans. "Everything is designed to come to you and you eat it within three days or you freeze it," she says, noting her extensive research on proper food storage. And the website will answer home cook questions like: How do you keep your spinach from wilting? Can you keep spinach for two weeks or one week? How should onions look when you sauté them? "It's a whole-purpose site for nutrition and wellness," says Brown.
In her free time, Brown loves running, shopping and reading. And she doesn't hesitate to pitch in when Life University calls on her – recently, Brown served as the student project lead in LIFE's Marketing Department's holiday video initiative. She led a student team, created the recipe for organic sugar cookies and lent her baking and decorating skills in LIFE's test kitchens.
Brown is excited that she has an official mission and business plan laid out for Cooking Preps – she's not far from achieving that childhood dream inspired by her family. She says, "This is my passion: To revamp the community and help people live healthier lives."
LEARN MORE:
Faces of LIFE is a story campaign that showcases members of the dynamic LIFE community, including faculty/staff, students, alumni and health science professionals. Interested in being featured or nominating a candidate? E-mail LIFENews@LIFE.edu. Read more Faces of LIFE stories.