Faces of LIFE: Dr. Tom Flores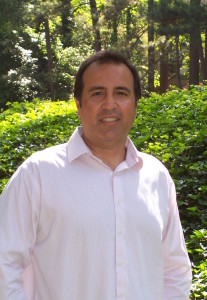 Tom Flores, Ph.D.
Introducing New Positive Human Development and Social Change Degree
Assistant Professor of Positive Human Development and Social Change (PHDSC)
February 2016
What were once known as "soft skills" are lately being recognized as some of the most crucial business skills in existence: critical thinking, persuasive writing and speaking, conflict resolution, the ability to work collaboratively. Employers are facing what Bloomberg.com calls a legitimate "skills gap" in contemporary hiring. And while many may point to the smartphone-savvy "selfie generation" prioritizing technology over people skills, this contradicts statistical evidence that depicts a thoughtful, world-conscious generation. From giving more in monetary charity than any other generation in history to logging more volunteer time, statistics show a generation seeking meaning and purpose in their lives and careers.
Enter Thomas Flores, Ph.D., and the new program he's co-developed with fellow faculty member Brendan Ozawa-de Silva, Ph.D. The Bachelor of Arts in Positive Human Development and Social Change* is slated to debut this fall and will focus on areas such as: peace studies and sustainable human flourishing; secular ethics; positive psychology; contemplative studies; and positive business. Dr. Flores says of the degree: "[It's a] relevant, robust and practical higher education experience, one that captures the original purpose and strengths of a Liberal Arts Education, while preparing students for the rapidly changing economic, intellectual, cultural and social challenges of the 21st century."
For Dr. Flores, who has a Ph.D. from Emory University in Religious Studies with a concentration in Religion, Conflict and Peacebuilding, a career related to peace studies, religion and secular ethics was not his original intention. Growing up in Los Angeles, California, he joined a neighborhood band at age 10 that lasted a decade. "I thought I was going to be a rockstar," he laughs. And while his band broke up, his passion for music persisted as he pursued a music career, first attending the Guitar Institute of Technology and then working in the music business at a recording studio. Along the way, he got a record deal as a singer/songwriter and created his own music and lyrics while working his day job of marketing pop music, promoting huge musicians like Madonna, Mariah Carey and Elton John.
Eventually, he felt it was time to change career paths. "I became disillusioned with both the music business and the artist business," he recalls. "I saw the worst of human nature, all with little potential for success." When he left the music industry he had to answer the question: "Who am I if I'm not a musician?" Many of the songs he wrote were socially conscious and political, so he pursued a bachelor's degree in political science. In school, he became fascinated with religion and conflict, interests which paved the way for the rest of his career.
After earning his Master's in Theology, focused on Comparative Religion and Social Ethics, from the Graduate Theological Union, he continued into his Ph.D. program at Emory University, bringing his wife and three kids to metro Atlanta, where they've been since 2001. Dr. Flores has since had extensive teaching experience in the fields of religion and interfaith dialogue, peace studies and conflict transformation, psychologies of violence and pro-social behavior, and contemplative approaches to education and peacebuilding; career highlights include when former President Jimmy Carter spoke in his class, as well as a class visit from the Traditional Queen of Liberia.
Now at Life University, he's excited to bring the new PHDSC program into fruition. "What drew me to LIFE is that it's unapologetically non-traditional in its philosophy about education and developing the capacities of the whole person," he says, discussing how the degree is tailor-made to Life University's whole-body approach to health and wellness as well as an attitude of service.
Outside of class, Dr. Flores continues to write and perform music. He enjoys spending time with his family, going on beach vacations and playing singles tennis. "I listen to all kinds of music now because of my kids and their different age groups," he says of his lifelong hobby now shared by his children. He's even been known to don an Elvis Presley costume and do "full-on" singing and dancing impressions if it means making his kids laugh at a school ceremony. He says, "I don't take myself too seriously, and I can't imagine life without humor."
With the PHDSC program slated to start this fall, he's beginning his teachings in peace studies with special elective courses offered next quarter. On March 3 he will host an open-to-all "lunch and learn" for students to learn more about these electives and how their teachings apply to every degree program and profession. Dr. Flores hopes to get students excited about these unique course offerings right here at Life University. "I've been amazed at the students' different backgrounds and life experiences," he says. "I look forward to playing a role in their journeys."
* Pending approval from the Southern Association of Colleges and Schools Commission on Colleges (SACSCOC) the B.A. in Positive Human Development and Social Change is slated to begin enrolling fall 2016.
Faces of LIFE is a story campaign that showcases members of the dynamic LIFE community, including faculty/staff, students, alumni and health science professionals. Interested in being featured or nominating a candidate? E-mail LIFENews@LIFE.edu. Read more Faces of LIFE stories.