Faces of LIFE: Tony Williams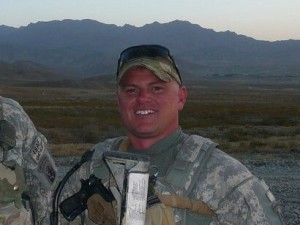 Tony Williams
The Ministry and the Military
Student: Doctor of Chiropractic
September 2015
Tony Williams grew up thinking he'd join the military – watching old movies had fueled this desire. But while he was in high school, he felt a calling to become a minister. He attended college to become a minister, but when his funding ran out, he joined the army. He's mixed the two careers up into a harmonious blend throughout his life, serving in the National Guard as a youth pastor, serving in the infantry and special operations. In his civilian days, he's worked as a youth pastor, a radio frequency engineer in wireless telecom and as a young adults' pastor.
He had enrolled in divinity school when he first followed a mentee, a student at Palmer South, to a chiropractic talk by Dr. Dan Yachter. Dr. Yachter was discussing tenets of chiropractic philosophy, and afterward Williams pulled him aside to talk more. He remembers: "He said, 'Listen, science can explain the connection between the mind and the body … But it can't explain that spark of life. That's God. The scriptures say that we will have the gift of healing, and I believe what God tells us in his word — I know because I lay my hands on bodies and remove the interference, and God heals lives.'" It was a completely unique experience for Williams, who suddenly saw health connecting with faith, career connecting with belief. He says, "It was like a lightning bolt from the sky. I was like: where do I sign up?"
As he polled doctors throughout his community and within Maximized Living, every one of them – regardless of their own educational background – recommended Life University (LIFE). "LIFE has the reputation of being more philosophical, more grounded," he says. As he toured different schools, two things swayed his decision: LIFE's traditional campus and the opportunity to take his science prerequisites.
Just as Williams was matriculating into the D.C. program, he was deployed to Afghanistan in 2009. He was happy to go, half volunteering himself. Williams describes his military experience as 'amazing,' saying: "Being in the military was the best and most frustrating time of my life. There's no other structure like it in the world; it's a world unto itself." He cites the camaraderie as the best part of the experience. "I spent my entire time in the infantry in special operations, and the camaraderie that comes with that is powerful."
After returning to the States at the end of 2010, he wasn't ready to get back to class. Instead, he took a job working private security detail for a Florida-based billionaire. Next, he helped a friend whose company was about to go under. Besides the military and the ministry, Williams has worked in corporate business – running the largest wireless telecommunications consulting company in North and South America.
Back at LIFE as of 2014, Williams' business acumen lends him a unique perspective. "One of the reasons many people are drawn to Chiropractic is that they want to work for themselves," he says. "They might be the best adjustors in the world and have a real passion for people, but at the end of the day you've got to be able to run a business." He feels students should invest time and energy outside of school to develop solid business skills, focusing on business operations.
Now in his eighth quarter, Williams knows his rambling route to Chiropractic was a natural extension of his journey. "When you feel a call in life, circumstances don't change that call. Certainly there were bumps on the path, but my calling as a teenager into the ministry – I view this as a continual expansion of that call." He talks about the chiropractic philosophy feeling like a bubble around campus – one you don't realize is there until you encounter students from other schools. And he connects his faith to his studies daily: "I understand that for chiropractic philosophy to be palatable for the masses, it kind of has to be dialed down to 'innate.' I don't agree with it, but if others do, that's fine. But for me, that's God. God created all the healing power in our bodies."
He expects to graduate in 2017 and hopes to open a Maximized Living health center located out West – he's ready to trade out winters for a year-round hot climate. After a military lifestyle, cross-continent moves and career changes comes easily to him. "Find the things that you can grab a hold of to make that experience worthwhile and embrace that change," he advises others who are looking to make major moves and changes in their lives.
"One of the things I've learned over time is to not get so wrapped around the axel about what's next," he says. "Climbing the corporate ladder, you get so goal-focused. I would rather experience life as it comes to me, and enjoy that journey – whilst still having goals – but not being tied to the ends."
Faces of LIFE is a story campaign that showcases members of the dynamic LIFE community, including faculty/staff, students, alumni and health science professionals. Interested in being featured or nominating a candidate? E-mail LIFENews@LIFE.edu. Read more Faces of LIFE stories.