Faces of LIFE: Ty Woods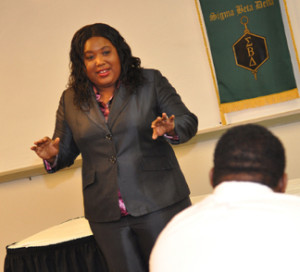 Ty Woods
The Unstoppable Ty Woods
LIFE Alumna
March 2015
Ty Woods, Life University (LIFE) alumna, is living proof that you can be unstoppable when equipped with knowledge and the passion it takes to make the world a better place.
Woods transferred from a large university to LIFE in 2007 to continue her undergraduate program in Business Administration. She wanted to find a business program that offered smaller classes. "I didn't want to be just a student number. I wanted the professors to know who I am," she says. During her time at LIFE, she noticed there were not many opportunities for business students to excel in extracurricular activities. "I created the opportunity for business students by chartering a business fraternity called Phi Beta Lambda," she recalls.
Phi Beta Lambda allowed students the opportunity to develop in certain areas such as public speaking and accounting and to compete in state, regional and national level championships. Many students that participated in the program created by Woods won state and regional championships; Woods even won a national championship for impromptu speaking and public speaking as well.
Although Woods was attending LIFE on scholarship, she still needed extra money to cover the difference of what the scholarship did not pay, and she needed extra money "just to live." She did not want to graduate with the burden of having to pay back student loans, so she started a small business, Campus Tax, where she began doing taxes for the students at LIFE for only $50.
Her business became so popular that the word spread, and students from other schools began calling her to do their taxes. As an incentive for doing students' taxes, she also offered to proofread their essays and in turn helped them to find scholarships. "I found that I was really, really good at finding hard to find scholarships," Woods says. "After that, it just kind of blossomed from there."
Woods graduated from LIFE with a Bachelor's degree in Business Administration; she was also class Valedictorian. After she left LIFE, she went on to pursue her Masters at Coles College of Business at Kennesaw State University under the MBA program where she studied entrepreneurship and launching new businesses. It was at that point her business became Campus Tax and Financial Aid Services. "It ended up evolving into something more than what I ever intended it to be," she recalls. "Because basically, everything I was doing, it could be automated just by developing the technology that would allow students to file their taxes with their smartphone, but it's also a technology that will match students with qualifying scholarships, and I had never seen anything on the market like it," she says.
"So in 2012, I put together a team, and we developed the Campus Tax mobile application that now allows students the ability to take a picture of their tax documents with their smartphone and upload it onto the tax form where it will automatically be sent to the tax professional for review. Everything is automated, and the only thing we're doing now is reviewing it," she says.
The second part of her business is what eventually became proprietary—in that Woods began to put together a proprietary scholarship database and integrated that into a mobile application. This allowed students to enter their information into a mobile app where it would automatically match the student to the best qualified scholarship.
Although Woods continues her tax business today as her sole means of support, her true passion lies in giving back to the community. She and her husband began a nonprofit organization out of the second bedroom of their apartment called Artportunity Knocks. Woods and her husband both have artistic backgrounds, and they wanted to share this with children who had nowhere to go after school in order to use their time productively.
"The mission of Artportunity Knocks is to empower youth through positive arts, self expression, education and community service," she says. Woods felt like the arts that children are exposed to today may be considered as derogatory and inappropriate. She wanted a place for children to go where parents could feel good about them participating in a program where they were not exposed to music or paintings that were not age appropriate. Artportunity Knocks will be a community arts center where children can learn state-of-the-art technologies in the digital arts, digital media, fine arts and performing arts. She feels it would be a safe haven for them. "Something like the Boys and Girls Club – for the Arts," says Woods.
Woods currently holds the sits on the board with the title, President. She has received a few grants, including a recent one from Wal-Mart. "This is something I know is going to be an international organization," she says. Her programs are active in other community centers for now: six communities in the metro Atlanta area and one in Los Angeles.
"From starting from our apartment complex and now having our programs running in two cities across the country is, to me, on the brink of something really, really big. I just never thought it would end up being something like this," she says. "So everything that I do now, I think global. Everything that I do, because I have a feeling now, that God put me on this earth to impact the globe, and not just my region."
Woods has remained in contact with the professors at LIFE, and is now a regular guest speaker every year. "I'm grateful because I feel like it's my obligation to give back in some form or fashion. Eventually, I will give back monetarily in a big way, to both schools that have made an impact in my life … but in the meantime; I'm giving of my time."
It is Woods' desire to return to LIFE and open a Center for Entrepreneurship there. She feels this would benefit both the undergraduates and graduate students and help them to have the necessary tools they need, along with funding to launch their careers. She would like to see LIFE host business competitions because they provide a good way of accessing funds to begin new businesses.
Woods feels that people want to go to colleges where they will still have access to the alumni after they graduate. She believes that if you have more people coming out of LIFE where they are starting businesses and becoming financially successful and giving back, that other people will want to go there too.
Woods' for-profit company she began while at LIFE now operates under the name of CampusTECH. It has recently transitioned from a service company to that of a technology company. CampusTECH Services provides web and mobile-based solutions for colleges and their students. Her company was recently featured on Business RadioX and has received the attention of Atlanta investors for major funding for national expansion.
Woods pledges out of her success to contribute to entrepreneurship development at Life University and to make a lasting impact that spans generations.
Faces of LIFE is a story campaign that showcases members of the dynamic LIFE community, including faculty/staff, students, alumni and health sciences professionals. Interested in being featured or nominating a candidate? E-mail LIFENews@LIFE.edu. Read more Faces of LIFE stories.