Faces of LIFE: Tyrus Baytops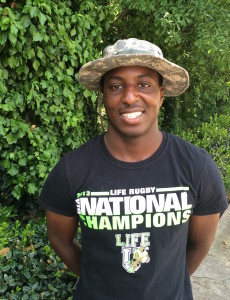 Tyrus Baytops
Rugby, Good Grades and the National Guard
Student: Business Administration
May 2015
"Can I wear my hat?" Tyrus Baytops, Business Administration student, asks as he prepares to have his Faces of LIFE photograph taken. "I love this hat."
Besides his camouflage hat, he's also sporting a Life University (LIFE) rugby t-shirt. A few weeks away from the Collegiate Rugby Championships (CRC) in Philadelphia, Baytops has rugby on his mind. "This is my third year at CRC," he says. He's glad to get another chance at it, hoping to improve his sevens game – the CRC plays seven versus seven instead of the standard 15 versus 15. "It's a really a big stage; it's nerve-racking. With sevens, the fitness is different, there's a lot more space and a lot more running around – it's a whole different mindset. In a 15s match you can hide your weak links, but you're exposed in sevens."
And while he's looking forward to showing his skills on the pitch, he also envies the Life U students in the audience. "Every year that I'm on the field, I wish that I was in the stands!" he laughs. "It seems like they're having a ball up there. Everybody wants to come party with us – even people from different schools. They'll put our shirt over their school's shirt and party with us. We've got a friendly environment!"
Rugby brought Baytops to LIFE. "I didn't know this school existed," he says. Though born in New Jersey, Baytops calls Charlotte, North Carolina home. He moved to Charlotte at age 15 and says of the city, "I played rugby all four years in high school. I met my first love there. Charlotte is where my heart is."
Baytops' love of rugby started – like many high school dramas – with a challenge from a rival. "There was this dude I grew up with," Baytops recalls. "I was a football player, and he challenged me, 'You need to come out and play rugby. It's a tougher sport. I think you're too scared to play.' And then I fell in love with it from day one." Though both rugby and football are intense contact sports, Baytops acknowledges that his challenger was probably right – rugby puts a serious demand on the body with far fewer breaks than football.
Athletic even as a child, Baytops dreamt of becoming an NBA player or an NFL superstar. "Obviously it didn't work out for me in that regard," he says. "I always enjoyed playing sports; sports were always a main priority for me, more so than school." He didn't end up graduating from a traditional high school, instead getting his diploma from an adult high school program. When he got accepted to LIFE, his main focus – like it always had been – was playing rugby and hoping he didn't flunk out.
"Being here changed that a lot for me," says Baytops. A self-professed introvert, he says the small classes at LIFE appeal to him. While he still plays hard on the rugby pitch, he's changed his scholastic habits – refocusing on his studies and eating right so that he's performing his best in class. "In the last two quarters, I've been doing great in school – I've actually pulled out two consecutive 4.0s. My main focus now is school, and I look at rugby as a privilege instead of a necessity."
Another factor in his new focus was joining the National Guard during his freshman year. Around Christmas of 2013, Baytops was looking for jobs, and after filling out application after application, he heard back – from the National Guard. He says, "I knew it would be beneficial in the long run, and help pay for school and look good on my résumé. I ended up [leaving school] for a few quarters to go to basic training, and then came back in the 2014 Fall Quarter. I do my National Guard duties every month and two weekends of the year."
In the National Guard, Baytops works as a food specialist, cooking for the unit. "I'm basically a cook with a fancy title," he laughs. He hopes to put his Business degree to work, advancing to the role of chief warrant officer. "I want to stay in the food industry, overseeing the kitchen and ordering things. A chief warrant officer specializes in a specific field." Baytops says he loves to cook. When asked to name some of his favorite dishes to make, he amends his statement: "I follow recipes."
He says, "I make a mean spaghetti; I make my own spaghetti sauce. I juice a lot: celery, carrots, cucumbers, apples, bananas, avocados, strawberries, beets. I learned that the things you put in your body are important; it fuels you. I've seen a big difference in how much focus I have in class than when I wasn't eating right. I don't eat to eat; I eat to fuel my body."
Outside of school and rugby, Baytops says he's a geek. He hangs out with friends, reads and meditates. He's keeping up his academic progress by repeating good habits. "I've learned that repetition is really important: every day, keep focused on the task at hand," he says. "It may seem boring and repetitive, but there's more payoff in the long run. That's a good thing rugby taught me: reps and reps and reps. That's the only way to get better."
Faces of LIFE is a story campaign that showcases members of the dynamic LIFE community, including faculty/staff, students, alumni and health science professionals. Interested in being featured or nominating a candidate? E-mail LIFENews@LIFE.edu. Read more Faces of LIFE stories.