Faces of LIFE: Zach Thomas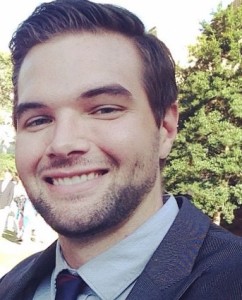 Zach Thomas
Listening to the Inner Voice
Student: Chiropractic
April 2015
Three years ago, D.C. student Zach Thomas could not be convinced to go to a chiropractor. Now he has "ADIO," the chiropractic philosophy "Above-Down, Inside-Out," tattooed on his arm.
"I really couldn't tell you what I wanted to be when I was little because I feel like it was something different every couple of months," Thomas says. He was passionate about sports throughout his childhood, excelling in baseball and basketball. A Columbus, Ohio native, Thomas went to college at Ohio State University and channeled his love of athletics into becoming a personal trainer. Over time, he began to doubt his choice; his best friend was a successful personal trainer, and Thomas thinks he might have been trying to fit into his friend's vision rather than his own.
While Thomas was considering a change of career, an injury spiraled him onto the path of Chiropractic. While deadlifting at the gym, he herniated two discs in his lower back. "That was the worst experience and the worst pain I've ever felt in my life," he recalls. "I was stuck at 90 degrees, bent forward, for about seven days. I was taking pain pills and muscle relaxers to take care of the symptom of the back pain." His friends urged him to see a chiropractor, but he put it off. No one in his family had ever seen a chiropractor, and he felt he could survive without it. He says, "At that point, I knew what the majority of the population knows about Chiropractic – you go for neck and back pain."
After he hurt his back a second time, he made his first-ever chiropractic appointment. For Thomas, that initial adjustment was life-changing. He says, "I can remember getting the adjustment and leaving and feeling different; it was almost like my vision was clearer, the colors more crisp. I remember thinking while walking back to my car, 'Okay, how can I do that for people?'"
He applied to only one school, the alma mater of his chiropractor: Life University (LIFE). He didn't tour any other schools, didn't attend LIFE Leadership Weekend and didn't visit the LIFE campus. He'd never been to the state of Georgia. The same week Thomas received his official acceptance from LIFE, his girlfriend got a job promotion to her company's Atlanta branch. Thomas recalls, "We'd only been dating six months at the time and everything was super new. We looked at each other and said, 'Okay, I guess we're moving to Atlanta.'" They packed up their things, including their two dogs, and made the move. Thomas's first time on LIFE's campus was new student orientation in fall 2013.
"Within Chiropractic, we talk about innate intelligence and knowing that inner voice, and letting that guide you. That was probably my first real experience with that," he says. "I didn't have anything to tag it with or name it, but it was just something inside me that told me to go."
Thomas came to LIFE with very little knowledge of what lied ahead. "I had no idea what Chiropractic was, what it meant, the principles, the philosophy," he says. The more he learned, the more he felt he had found his calling. He has now been under regular chiropractic care for a year and a half, and he says he feels better on a regular basis. He also adopted the chiropractic lifestyle, adding meditation and healthier eating into his routine. "I feel comfortable in saying that Chiropractic has really helped me develop and grow into the person I am now, and I believe it will help me get to where I want to be in the future, as a doctor, a husband, a father."
On campus, he serves as the vice president of communications for Student LIFEforce, the campus student extension of LIFEforce 1000. He enjoys the close community at LIFE, especially compared to his large undergraduate classes. He says, "I always tell people about my general chemistry class; the lecture was 600-700 kids sitting in this humongous auditorium." He credits the LIFE community for making it easy to get involved.
Thomas is enjoying his new life in Georgia, particularly happy to trade Ohio's cooler temperatures for an early Atlanta spring. "Once it starts getting nice out, everybody is outside," says Thomas. He and his girlfriend, who's now studying health coaching at LIFE, adopted two small dogs and now walk their canine clan of four – Brody, Bronx, Bruno and Brutus – in Piedmont Park. Their eventual goal is to move back to their hometown of Columbus and open an office together, serving their community and being close to their families.
At that eventual new office, Thomas hopes that his "ADIO" tattoo grounds his memory in his passion for Chiropractic and his experiences at LIFE. He says, "I want to look down and remind myself, 'This is why I'm here.'"
Faces of LIFE is a story campaign that showcases members of the dynamic LIFE community, including faculty/staff, students, alumni and health science professionals. Interested in being featured or nominating a candidate? E-mail LIFENews@LIFE.edu. Read more Faces of LIFE stories.