Supervisor Hiring and Management Guide For Student Workers
Supervisor Hiring and Management

Guide For Student Workers
Introduction
What is Work-study?
The Federal Work-Study (FWS) is a program that provides funds for part time employment to help students who need help in financing the costs of postsecondary education. Since the position is Federally funded, it requires proof of funding. Each student awarded funding is provided an "Award Letter" that must be presented at the time of interview to the manager and employment to Human Resources (HR). Prior to each quarter, the student MUST present a renewal award letter that shows a continued Federal Work-Study funds award. Departments must have a work study budget that is managed by the Department Head.
What is A Student Worker, Part-Time?
Student Workers are part-time workers who are funded by general funds that come directly from the departmental budget. To hire a Student Worker, you must have funds allocated for student workers within the budget and manage it effectively.
NOTE:  The two budgets are from different fund accounts and cannot intermingle.     
Acronyms:
FWS – Federal Work-Study – Students awarded federal funds by Financial Aid
STU – Student workers whose pay is funded by departmental funding
PSF – Payroll Status Form
JD – Job Description
SE – HR Coordinator- Student Employment HR Coordinator
Posting-Removing Available Positions
Supervisors should submit to the Talent Acquisition Specialist a Requisition Request Form and Job Summary when requesting a job posting.

If the position will have multiple hires, please indicate such on the ADP Request form.

The Talent Acquisition Specialist will notify the Hiring Manager once the request has been submitted.
Once the position has been approved, the Talent Acquisition Specialist will notify the Hiring Manager that the position has been approved and posted.
The position will be posted on LIFE.edu once the requisition has been approved.
Email the Talent Acquisition Specialist if you would like the position removed from the LIFE website once the position has been filled.
Hiring New STUDENT WORKERS
 All available student worker positions are posted on LIFE.edu
Supervisors should refer all interested students to the website and provide a copy of the outline on "How to Apply for Student Positions" to the student, which can be found in the forms section of this page. This will ensure they are given the proper instruction on how to apply for a student position.
Guidelines apply to all (FWS and STU) unless specifically stated:
All student workers must be actively enrolled and registered for classes.
The student applicants are sent directly through ADP upon submission to the Hiring Manager for review.
It is the responsibility of the supervisor to call and interview the applicants.
Best Practices – Supervisors should call applicants within 24 hours of receiving the application.
FWS Only:  During the interview process, candidates applying for a Work-Study position must present a current (dated within the current week) award letter to confirm WS funding.
Note: Upon hire, the supervisor should retain a copy of the student's award letter, class schedule and job description for future reference. HR will maintain the original documents in the official employee file.
All student applicants should provide a class schedule to the hiring manager during the interview process.
REMINDER: During the interview process, it is important to review the job description and essential job duties to ensure the student understands the expectations of the job.
If the supervisor would like to hire the applicant:
The supervisor must confirm WS funding during the time of interview by receiving an award letter from the student.
Supervisors must submit the New Hire Payroll Status Form in DocuSign to initiate the hire.
Supervisors should contact the non-chosen applicants who were interviewed to inform them another candidate has been selected. Supervisors may refer applicants back to the HR Employment site and encourage them to apply for another posted student position.
Upon receipt of the New Hire Payroll Status Form, HR will confirm active status of the student and available funding for Work-Study candidates.
Drug screenings are required as part of the on-boarding process and will be initiated by the HR Coordinator for all student applicants. Please encourage students to complete this process as soon as possible to expedite the on-boarding process.
FWS Only – Community Service: If the applicant is being hired for a community service position, a drug screening, criminal background check, and if the position requires any interactions with children, a sex offender registry check will be initiated by HR. All background checks and drug screens are completed via ADP.
Once the drug screen has cleared, an email that includes the new hire forms will be sent to the student's Life University email account. Supervisors are included on all communications with students.
The student should complete the forms and contact HR to schedule an appointment with the HR Coordinator to complete the on-boarding process.
Once everything (paperwork, drug screen and background check) has been processed and deemed satisfactory, the supervisor and student will receive an email from HR indicating they have been cleared to work according to the effective date listed on the email.
It is the supervisor's responsibility to notify the student worker of the report to work date.
STUDENTS MAY NOT WORK UNTIL THE SUPERVISOR RECEIVES CLEARANCE FROM HR!
Supervisors must notify the Talent Acquisition Specialist in HR once the position has been filled and to have the posting removed.
The position will remain posted on the HR website, and students will continue to be referred to the hiring supervisor until we receive notification to remove the posting.
Departmental Orientation
New student workers will require guidance and training while transitioning into their new role and department.
The supervisor must review the job description with the student worker.
Once the job description has been reviewed and signed by both the supervisor and student, scan a copy to HR. Please make sure the student's name is printed legibly at the top of the job description to ensure correct filing.
Once hired, the supervisor has five days to scan or send in interoffice mail the signed job description to HR. Example: If the student was hired March 1 the job description must be scanned to HR no later than March 6.
Supervisors are required to train each student on documenting and submitting time worked. The student's ADP registration codes are emailed to their University email once hired.
The supervisor is responsible for ensuring the student worker is performing his or her position.
Suggestion: create a checklist of items needed for the student to perform his or her position.
The checklist may consist of what the student will be trained on, their work schedule and budgeting their award balance. It may also consist of where the student will sit, park and how to complete their time sheets.
Process and Procedures
FWS Only:  All departments who employ Work-Study students will be allotted a departmental yearly budget.
Department heads are responsible for managing their department's work study budget.
In addition to the departmental budget, the supervisors must manage the individual student's Work-Study funds.

Utilizing the FWS Budget Spreadsheet will help department heads keep track of funds usage. An example of this spreadsheet is featured at the end of this guide. Please contact HR if you do not have a copy of this spreadsheet.
Each department is allotted a limited HC of WS Students. If you require an additional WS Student, a written request including the business need for the additional HC must be submitted to the VP of Student Services, to obtain approval prior to recruiting for the additional position.
If you're not sure what your budget is, contact the Budget Director in Finance.
Each fiscal year, the Financial Aid Department awards specific financial aid recipients with Work-Study funds for the entire fiscal year. The funds are awarded to students based on a needs analysis and other financial aid factors. The award amount should appear in the award letter indicating funds for the entire fiscal year broken down by the quarter. If you require more information about the award process, contact Financial Aid.
NOTE: FWS Only: After each pay period, supervisors who employ Work-Study students will receive a courtesy email notification of their students' earnings who have less than $400 remaining in the quarter. The email will not have the current week's usage, so it is
imperative to use this as a checker to balance what you have computed with your own spreadsheet!
Department heads will be copied.
This report comes from Financial Aid, so any questions should be directed to them.
If you intend to allow the student to deplete their balance for the quarter, please reply to the email from HR stating you are allowing the student to deplete their funds for the quarter and that you and the student understand an overage will not occur.

Overages are not allowed; the amount of any overage is charged to the department's normal operating budget.
Each department is responsible for creating and implementing departmental rules. Make sure there is a balance and remember that since they are student workers, school is the priority. Student workers may not work more than 20 hours in a week! Supervisors and students are responsible for the integrity of the hours represented on each timesheet that is approved. Supervisors must ensure the student worker complies. 
 Student workers must always have supervision. If you are not available to supervise, be sure to designate a responsible staff member to assist during your absence. STUDENTS MAY NOT BE IN A SUPERVISORY ROLE! Students should have a staff member who will be able to articulate what is expected of them, answer questions and verify hours worked
An on-site supervisor must be available for questions and directions. They must also be able to verify and approve the hours students have worked. Students may not make departmental decisions such as budgeting, for example. In most cases, the student worker is hired to assist and provide support to the staff.
FWS Only: Supervisors should ensure the student is not working during any scheduled class time! Allowing a student to work while the student should be attending class is a direct violation of federal requirements, which makes it imperative to obtain a class schedule prior to working.
FWS Only: Work-Study students must not go over their award balance! Supervisors must ensure the student worker complies.

The Work-Study spreadsheet is not mandatory, but it is a helpful tool in tracking the budget and hours for each student.

Students may only have one position per quarter, which includes both federal Work-Study and student worker employment.

There is an exception for positions paid from an alternate source, such as Wellness Personal Trainer, SSC Note-Taker, etc.
FWS Only: Supervisors are responsible for obtaining a current award letter from the student worker each quarter before allowing them to work. The student may retrieve their award letter from their EagleNet account. Students who have not been awarded Work-Study funds may not work in a Work-Study position!

Students who are interested in working, but do not have Work-Study funds awarded to them, must go to Financial Aid to determine if Work-Study funds can be awarded.
Students who have changes (decrease or increase) to their award amount must submit a new award letter to the supervisor.

If the student has a change in their award balance, you can email the HR Coordinator as an FYI.
DO NOT ALLOW STUDENTS TO WORK UNTIL THEY HAVE BEEN HIRED AND RECEIVED CLEARANCE FROM HR!
Once the student has received clearance from HR to work, they may start work on the official date of hire indicated in the email to the supervisor. All clearances will be sent via email. 
Students must be enrolled in school and registered for classes to participate in the Student Worker program.
Time/Attendance
It is the responsibility of the supervisor to train student workers on submitting their time via ADP prior to timecard approval day.

Suggestion: Have student workers enter hours each working day to keep an accurate record of hours worked and to avoid trying to locate students to input hours at the time of payroll.
Have a sign-in/sign-out book or timesheets for auditing to ensure hours are accurately being tracked and submitted.

Supervisors should designate an alternate supervisor to delegate the authorization of timesheets and management of student workers in their absence. Keep alternates updated with your current student roster if an emergency occurs.
IMPORTANT! Supervisors should mandate a timecard deadline for student workers to review and approve timecards each payroll Monday. The supervisor must ensure each student worker is aware of the timecard cutoff and consequences (see Warning and Penalties) associated with not adhering to the deadline.

The normal cutoff for all time card submissions by students for the week is by 3:00 p.m. each Friday.
VIOLATIONS
Federal Work-Study Program IS NOT A SUBSTITUTE for staff personnel!

It is against the FWS policy to employ a student worker in place of staff personnel.

Example: Instead of hiring a full-time staff employee to assist with office tasks, the supervisor decides to hire three Work-Study students to perform the same tasks that would normally amount to a full-time staff position. This would be considered a VIOLATION of the FWS policy, and the University could lose all federal funding.
Students may not work at unauthorized locations or travel to unapproved destinations for Work-Study tasks.
Supervisors who allow students to drive company vehicles such as cars, vans or golf carts must have the student register with the Facilities Management Department.
All student positions are working positions; students must perform tasks during their scheduled work time as outlined in their job description.
Job descriptions and wage adjustments must be approved by HR. Any changes or corrections to the job description or wage must also be approved by HR.
Terminations
Supervisors must ensure terminations are submitted via DocuSign once a student has graduated, withdrawn, transferred or disenrolled. Students who are no longer active at the University must be terminated.
Students who have not worked an entire quarter must be terminated.
"No show, no call" for a week can result in a termination for the student.
Students who have depleted Work-Study funds must stop working! If the student obtains an increase in Work-Study funds, they must provide the supervisor with a new award letter indicating the funds awarded. HR should receive a copy of the new award letter.
Warnings and Penalties
Supervisors should ensure all entries in ADP are signed off no later than 5:00 p.m. on Mondays during payroll week. NO EXCEPTIONS!

First late timesheet submission: a warning is issued.
Second late timesheet submission: the department may lose all Work-Study privileges.
Payroll will notify HR of any occurrences.

Once supervisors have been notified by HR that a student should discontinue working, and the student continues to work past the warning, this will result in a possible loss of Work-Study students for the entire department.

First notification: a warning is issued.
Second notification: the department may lose all Work-Study privileges.

Supervisors should not allow students to work or submit more than 20 hours in a work week.

First notification: a warning is issued.
Second notification: the department may lose all Work-Study privileges.
Payroll will notify HR of any occurrences.

Supervisors should not allow students to work before they have been cleared by HR.

First notification: a warning is issued.
Second notification: the department may lose all Work-Study privileges.

All penalties are inclusive for the entire year and will last for the remainder of the fiscal year (Summer-Spring).
Example: In the Fall Quarter, the supervisor allows a student to work before he/she has been cleared by HR, and in the spring quarter, the supervisor allows another student to work more than 20 hours in a week. Because the supervisor had two occurrences that happened within the same year, the department may lose all Work-Study privileges for the remainder of the entire fiscal year.
FWS ONLY:
Supervisors who allow students to go over their award limit:

All overages will be assessed to the department's budget.

Overages will be assessed at the end of each quarter or the beginning of the upcoming quarter (in between the break).

Financial Aid will notify HR of any occurrences.
Department heads will be notified.

Supervisors who allow federal Work-Study students to work without Work-Study funds or obtaining an award letter:

All balances will be assessed to the department's budget.

Overages will be assessed at the end of each quarter or the beginning of the upcoming quarter (in between the break).

Financial Aid will notify HR of any occurrences.
Department heads will be notified.

BLACK-OUT PERIOD: FWS and STU are not allowed to work during the last two weeks of the Spring Quarter in preparation for the new fiscal year starting in July. They are also not allowed to work during the December Winter Break when the University is closed.

There is an exception for those approved to work in the Wellness Center and in Enrollment Services.
There may be exceptions for those being paid by alternate funds, such as Personal Trainer, Research Assistant, etc.
Please be sure to read all emails and memos sent by HR regarding student workers.
Penalties associated with the Work-Study program are enforced to ensure Life University is compliant with all federally mandated regulations and to afford all eligible students the opportunity to earn extra income while obtaining valuable work experience.
Tips to having a successful work-study team
Create your departmental guide or checklist.
Review the job description with the student.
Start an orientation for new workers.

Review the student's class schedule to ensure it does not conflict with their work schedule.
Where they will sit.
Dress/attire.
Day-to-day position functions.
Work-Study funds.
Deadlines (EMPHASIZE)!!!

Train on entering time into ADP daily.
Train students to properly record sign-in/sign-out times.
Provide deadline time to have hours entered in ADP by payroll Monday.
Phone etiquette.
Absenteeism/Tardiness/"No Show, No Call".
How many times is this acceptable to your department?
Are there any penalties for not following the rules?
Optional – Confidentiality Agreement: Not all positions require that the student sign a confidentiality agreement; however, if this is a requirement of the position, be sure it is signed and included in the file. If you have any questions regarding a confidentiality agreement, please do not hesitate to reach out to HR.
Optional – Driving Agreement: If the student will be operating a Life University vehicle, they will require prior approval through Facilities Management. Please contact the Manager of Operations in Facilities Management to obtain the approval documents. Print a copy of the document and provide a copy to the student.
Remember: These are Work-Study students! Be patient, as we sometimes must train and educate students on proper ways to conduct themselves in a place of business. Their first obligation is their school work, but they are also employed in a wage-paying position.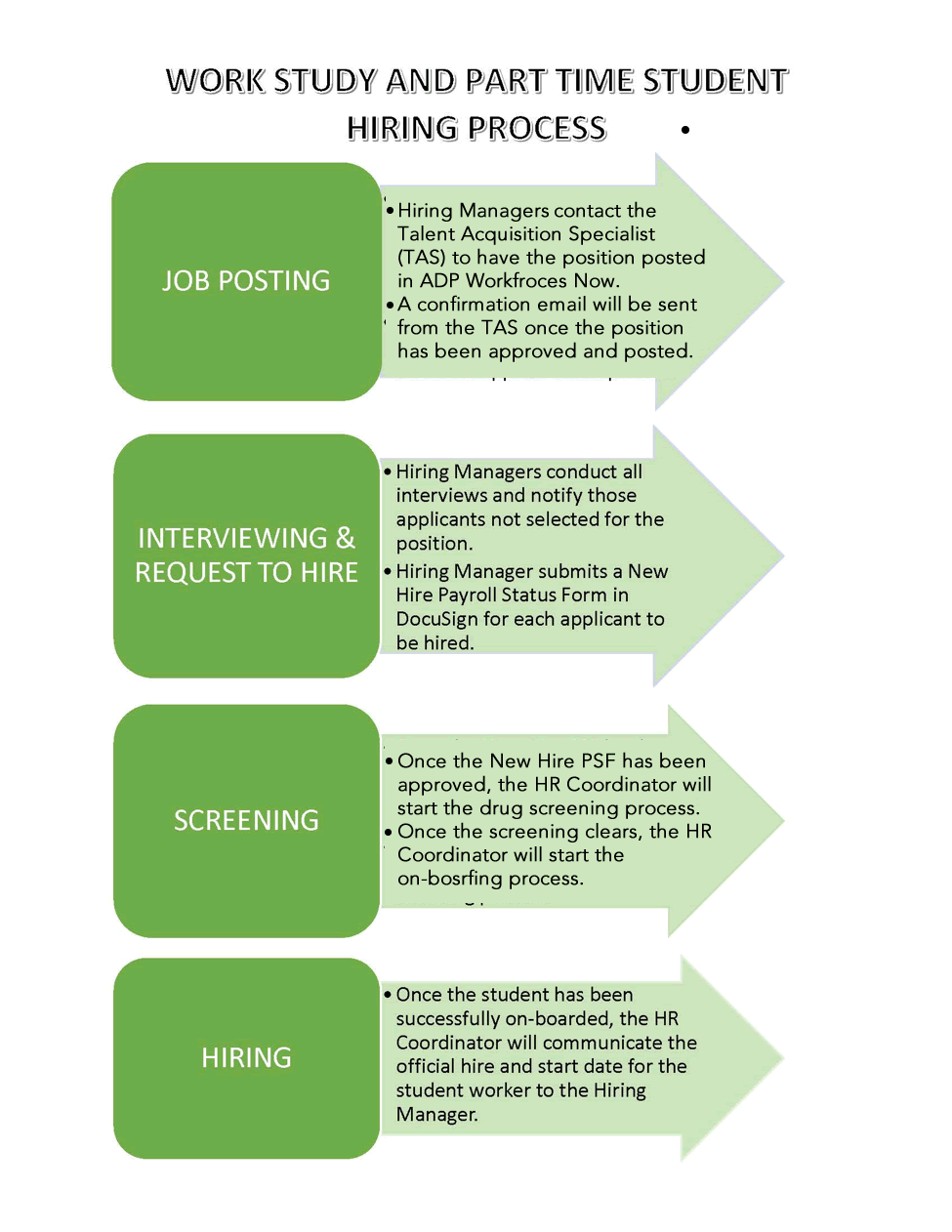 REQUISITION REQUEST FORM

ADP JOB SUMMARY

HOW TO APPLY FOR STUDENT POSITIONS

WORK STUDY BUDGET SPREADSHEET EXAMPLE