Faces of LIFE: Andrés Juliá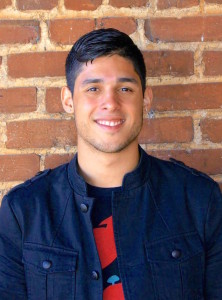 Andrés Juliá
Bringing Chiropractic to Puerto Rico
Student: Doctor of Chiropractic
June 2015
Andrés Juliá is a storyteller. "In January 2014, there was a lady," he begins. "She had been diagnosed 10 years before that with Parkinson's disease. She was taking three pills a day. She couldn't drive. She couldn't even drink a cup of coffee because she would drop the cup." After many years of the traditional medical model, the woman finally tried chiropractic care. After several weeks, she called Juliá and said, "Andrés, I've been getting better. I went to a neurologist, and they said I'm improving. They're taking me off the medication." Soon, she was drinking coffee and driving again.
At the time, Juliá was a D.C. student only one year into his studies at Life University (LIFE). "I knew the philosophy. I knew the body healed," he said. "But I didn't think people with Parkinson's, with incurable diseases, could actually get better. I had tears in my eyes. That's the story of my grandmother."
His grandmother's experience solidified his decision to pursue an education in Chiropractic, a path he'd arrived on almost by accident. Juliá grew up in San Juan, Puerto Rico. With less than 200 chiropractors working in a population of four million people, many Puerto Ricans haven't heard of Chiropractic, and Juliá himself wasn't quite sure what it was until he came to LIFE. He studied biology during undergraduate in Puerto Rico, planning to go into the medical field. However, he felt bored by his studies, and his classes were suffering – he was ready for a change.
A new romance spun his life toward Atlanta and Chiropractic. When he began dating a girl from Atlanta, Juliá researched healthcare schools in the area and flew out to a LIFE Leadership Weekend. His plan was simple: enjoy a trip to see his girlfriend while considering a potential new education and career path. Instead, he was completely surprised by the instant pull he felt when he arrived at LIFE. "I sat down in a room full of students, not knowing what Vitalism was," he recalls. "I don't remember exactly what Dr. Riekeman said, but I remember how I felt. I was excited, and I called my dad and told him, 'I'm going to be a chiropractor.' And he said, 'But you don't even know what that is!'"
Juliá enrolled, and over the next months, his priorities shifted. While his romantic relationship didn't last, his commitment to LIFE grew deeper. "That's basically how I got here," he laughs about his roundabout journey to Atlanta, LIFE and Chiropractic. "People say by accident; I say it was all planned out — I just didn't know."
He does know, however, that this is the place he wants to be. "I love being part of the vision," he says. "We're not only a school; we're the face of vitalistic health care. I feel like I'm part of a big movement – and people love to be part of a movement, right? Especially being part of a movement when it's actually happening."
For his part in that movement, Juliá hopes to tie his love of Chiropractic to his home of Puerto Rico. One of his favorite parts of studying at LIFE is the significant Puerto Rican population, which is currently close to 8 percent of LIFE's total student population. In fact, since the 2009/2010 academic year, the campus has experienced a 44 percent increase in Puerto Rican student enrollment; for the students on campus, it's an instant touchstone to home. "It's a very different culture than the North American culture, so being able to be around them is beautiful," says Juliá.
However, he hopes to not just spend time with his Puerto Rican D.C. student peers in class, but also back in their homeland of Puerto Rico. After acknowledging early on the lack of chiropractors in Puerto Rico, Juliá began to brainstorm how to bring more chiropractic awareness to the island. "I said, 'How can I unite everyone? How can I create an army of vitalistic visionaries down there?'" he says. He tried by starting right at the heart; he began a Philosophy Night in Puerto Rico in 2014 that had about 100 attendees. However, he didn't feel like he got the feedback he wanted. "I figured out that I want to unite everybody, but I started the wrong way. I have to start with the students. My friend [and fellow LIFE student] Emanuel Echandy and I started the Hispanic Club." He hopes that by uniting the students, they can unite the chiropractors and people of Puerto Rico. He says, "I feel like that's what many chiropractors have been trying to do throughout history. They just wanted to start big; they didn't start small."
Juliá intends to return to Puerto Rico when he graduates in late 2016, opening his own practice to work with families and children. He and Echandy are also discussing creating a project called Adjusting the Future. Their intention is to visit jails in Puerto Rico, specifically juvenile institutions. Juliá describes the goal: "To give a message of motivation about potential, and how can Chiropractic help those people achieve a better life."
He admits it's an uphill battle, mainly because many students want to continue living in North America after graduating from LIFE. "The percentage is very low of Puerto Ricans that go back," he says. "A lot because of the criminality [in Puerto Rico], worries about raising a family – they question that. I feel like what I have can actually help resolve that problem."
In the meantime, Juliá advocates for interested students to email him at Andres.Julia@Student.LIFE.edu or friend him on Facebook. He attends seminars and speaks at high schools and colleges about Chiropractic and Life University. And while he is a compelling storyteller, Juliá clarifies that his newfound passion for public speaking was something he found here at LIFE. He says, "I felt that people needed to hear my message, and that by being quiet, I wasn't going to change the world."
Faces of LIFE is a story campaign that showcases members of the dynamic LIFE community, including faculty/staff, students, alumni and health science professionals. Interested in being featured or nominating a candidate? E-mail LIFENews@LIFE.edu. Read more Faces of LIFE stories.