Faces of LIFE: John and Crystal Folta
John and Crystal Folta
From Navy Life to Chiropractic LIFE
Students: Doctor of Chiropractic
July 2015
John and Crystal Folta are a married chiropractic couple enrolled at Life University (LIFE), studying techniques in between walks to the playground with their 4-year-old daughter, Emelia. Their story stretches across the nation to Washington state, many leagues deep into the ocean on Navy submarines, and all the way back to where they originally met — kindergarten in the city of Berwick, Pennsylvania. In Berwick, they grew up together, attending the same schools but operating in different social circles.
"We never dated and weren't friends," jokes John. Crystal adds, "We were opposites; he was antisocial, and I was in every club possible."
After graduating from high school, they took separate paths. Crystal went to college and ended up studying at five different schools, trying to pin down her many ambitions; she considered pre-med, psychology, perhaps teaching history. "Somewhere in there I was going to be a farmer," she laughs. John joined the Navy to become a nuclear electrician; in the program, he received nuclear training on how to operate reactors.
Two years after graduation, John was stationed in New York, and he and Crystal, who was working at her aunt's restaurant in Berwick, caught up. The pair got together on New Year's Day in 2007, and exactly a year later they married at Niagara Falls. After John was transferred, they moved to Washington. While John was out to sea ("on the U.S.S. Sea Wolf," he says, adding the chant: "the fastest-driving, deepest-diving submarine in the fleet!"), Crystal began to forge a life in Washington.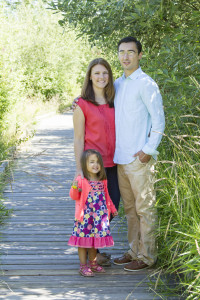 "The Navy family is so nice," she says. "Just like here at LIFE, you're a family. Everyone around you is on the same mission as you. I had a great group of friends – Navy wives and their husbands. We all had babies together."
She also found a chiropractor there, a practice run by Dr. Stephen Clark (LIFE alumnus) and Dr. Dave Pool (Logan alumnus). Both of the Foltas had seen chiropractors for most of their lives, Crystal for scoliosis and John for sciatica. They'd always seen chiropractors for pain relief, so when Dr. Clark asked Crystal if she wanted to work at the practice, it opened a window into the world of Chiropractic. "I saw the miracles. I saw babies not getting surgery," she recalls. "I first heard the word 'subluxation' even though we'd been going to chiropractors for over a decade. I feel like once you find out the true meaning of Chiropractic, you can't unsee it."
When she recognized her passion for this potential new career path, Crystal took Dr. Clark's advice and checked out Life University. With John still out to sea, she gathered up her sister-in-law Laura and one-month-old Emelia and took off for LIFE Leadership Weekend. Immediately, she felt a kinship at LIFE and returned to Washington to do all of her pre-requisites.
After eight years in the Navy, John rejoined civilian life and moved with his family to Marietta, Georgia. While Crystal enrolled in the D.C. program, John began to navigate his life on land. "I already had my career picked out," he says of his work in the Navy, which he hoped to transition into a career as an electrical plant operator, etc. "There aren't too many plants that are close to [Marietta], so I had to look elsewhere besides energy production." He picked up a job as a maintenance technician, then as a building engineer. Meanwhile, Chiropractic was constantly in his life as Crystal studied and they attended philosophy events together.
"He did So You Think You Can 'Tic?, which is the student speaking competition, before he was even in school — just telling his story of why he likes Chiropractic," says Crystal. After playing soccer all his life, John had been diagnosed with sciatica at 18; ever since, he's been an advocate of Chiropractic, often recommending chiropractic care to his friends and colleagues.
John's job as a building engineer began to feel repetitive. Meanwhile, his good friend Chris Branuelas — "Soulmates!" Crystal chimes in — who had also undergone nuclear technician training in the Navy, was feeling lost in his career as a steel plant worker. "Chris and I got to talking, and he said, 'Well, I'll go become a chiropractor if you become a chiropractor,'" John recalls. The challenge was accepted; both men enrolled in the D.C. program at LIFE.
It was a change for John from anything he'd pursued before. "On the technician side, I had seen the pitfalls of breaking everything into its individual, tiny parts, looking at things microscopically and forgetting about the bigger picture," he says. "Chiropractic brings the bigger picture back into view, showing how everything's connected."
Now the Foltas are a chiropractic duo, studying the same thing simultaneously, married with a child, living in a new town. "It is the hardest thing we've ever done. Even with him being out to sea at the Navy, us moving different places — this is the hardest thing," says Crystal. "We're evolving into different people, and at different rates. I learn something and then maybe three months later, he'll learn it a different way."
Each favors a different technique, so a major part of their education is supporting each other even when their approaches are completely different. Crystal is analytical and structural, focusing on the "how." John thinks outside the box, more in tune with an innate feeling. "I used to train on how to operate the plant and say things like, 'You've got to feel the plant. You've got to feel what the plant wants. You can't just turn the dial,'" he laughs.
They know the relationship struggles of chiropractic school — "You get married, you have a baby or you get divorced," Crystal says of the three most talked about outcomes. But for the Foltas, they've learned to embrace the changes in their relationship, envisioning each transition as the death of an old era and the birth of a new one. "We always resist death, but you're really letting go of something to replace it with something," says John. Their advice for couples in school together, particularly in the D.C. program, is to be open to change, allowing each person to grow.
The Foltas expect to graduate a quarter apart in 2017, and are filling their free time with seminars and business classes so they can hit the ground running after graduation. In the meantime, Emelia can expect lots of trips to the playground between study sessions; her soon-to-be chiropractor parents are making the most of their experience in school. "LIFE is all about the way you think about the world, and the way you think about yourself in the world," says Crystal.
Faces of LIFE is a story campaign that showcases members of the dynamic LIFE community, including faculty/staff, students, alumni and health science professionals. Interested in being featured or nominating a candidate? E-mail LIFENews@LIFE.edu. Read more Faces of LIFE stories.