Faces of LIFE: Steve Wilcosky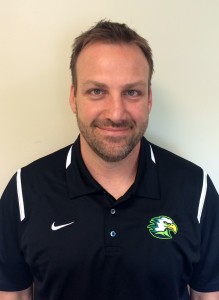 Steve Wilcosky
Bump, Set, Spike! LIFE's New Volleyball Program
Head Coach of Life U Volleyball
June 2015
Steve Wilcosky is new to Life University (LIFE), and so is the volleyball program he's coaching. Joining the LIFE family in February 2015, Wilcosky is building the University's volleyball program from the ground up. He says, "Any time you have the opportunity to be a part of building something from scratch, you have an opportunity to make history."
He began the process by recruiting players from all over the nation, handpicking Life U's inaugural volleyball team. "It's been really to find those athletes who are good, quality people first, so you have a good foundation," he says. He looks for team leaders on the court and role models in the classroom, foundation players who will help turn a group of strangers into a cohesive team. "And then you can go out and find someone who might need a second chance or is a really good athlete, and you can bring someone into this environment where you can nurture them and help them overcome their issues in life." For Wilcosky, the process is more than just evaluating athletic skills; it's fitting together a cohesive team, from leadership skills to determination, empathy to academics.
"Volleyball is the second most participated sport in the world, after soccer," says Wilcosky. He believes the new program will bring greater exposure to Life University, especially since volleyball continues to grow at a rapid pace. "For women in the United States, volleyball is overcoming women's basketball as the most participated sport. There are 480,000 high school varsity students in the U.S. who play it." And while volleyball is an Olympic sport, it's also often a game that anyone can play, and they probably have – whether they tried it out once at summer camp or enjoy playing a relaxed game with friends at a cookout. In this way, volleyball's a known sport with a built-in interest and fan-base. "Most people know about it or have played it at some point, so they relate to it," says Wilcosky.
Another aspect of the volleyball program that Wilcosky is excited about is the dual responsibility of the team to excel in their game and their studies. "I think from a student-athlete standpoint, in the demographic of women's volleyball, the students tend to be pretty sharp academically," he says. "It sets the bar for the rest of the athletic department. Which we're excited about, because it's not just about being on the court, but being role models across the campus." He credits LIFE Athletic Director Dan Payne with encouraging well-rounded student-athletes across all programs. "Dan Payne is a genuine, good person who cares about each athlete," he says, "and that's not as common as one would think."
This sense of duty as a student, a teammate and a leader is something Wilcosky loves about college sports. "There's so much growth in a person in those four or five years, and you can be a huge influence in their life," says Wilcosky. "Not only through the sport and helping them reach their potential, but what they're going through – the changes they're going through being away from home for the first time, experiencing some things that maybe they were sheltered to."
Throughout his own childhood and college years, Wilcosky was always an athletic guy, happiest when being active outdoors and working as part of a team. Growing up in South Florida, his two favorite sports to play were volleyball and football. Though he went to college for football, he continued playing volleyball and snapped up the opportunity to coach a junior club team. "When I coached that first time, I knew right then and there that this was what I was supposed to do," he says. Since then he's coached as an assistant and head coach at several schools, and is excited to bring his skills to LIFE.
Outside of work, he loves spending time with his wife, Stephanie, and son, Aedan. They enjoy hiking and being outdoors. "I'm an avid reader; I like reading books on learning and mindsets," he says, and enjoys going to concerts such as Shaky Boots. He calls his yellow lab Jack his "best buddy."
While the volleyball season doesn't start until fall, Wilcosky and his colleagues are already working on strengthening the team mentality. "Women like to bond to battle; guys battle to bond," he says. "So we have to help them bond and accept each other; the team chemistry is really important."
The Running Eagles volleyball team will play August to November in their first-ever season of competition. "The biggest goal we have is just to be great learners and be in a growth mindset, looking at everything as an opportunity to learn from," Wilcosky says. He wants the players to be comfortable with failure and learning from it; winning and losing is not the end result. "Our measurement of success is going to be how well we do the preparation and how we set a high standard of excellence on the court and off the court."
Interested in Life U Volleyball? Learn more at www.LIFERunningEagles.com and follow the team at @LIFEUVolleyball on Twitter.
Faces of LIFE is a story campaign that showcases members of the dynamic LIFE community, including faculty/staff, students, alumni and health science professionals. Interested in being featured or nominating a candidate? E-mail LIFENews@LIFE.edu. Read more Faces of LIFE stories.