Dr. Charmaine Herman Recognized as 2018 Top Chiropractor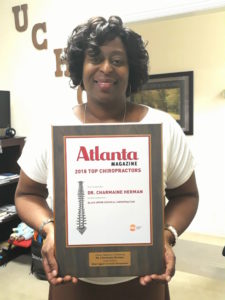 Another Life U faculty member was recently recognized as a 2018 Top Chiropractor by Atlanta Magazine. Dr. Charmaine Herman is a 2009 graduate of Sherman College of Chiropractic. Her practice is Agape Upper Cervical Health Center, Inc. in Alpharetta, Georgia. She is one of two chiropractors in Georgia certified to perform the Blair Upper Cervical Chiropractic technique, which she also teaches as an elective (ANLS 5802) at LIFE. Dr. Herman is a full-time assistant professor in the Division of Clinical Sciences in the College of Chiropractic.
Congratulations, Dr. Herman!