Distance Education Complaint Process
Complaint Resolution
The mission of Life University is to empower each student with the education, skills, and values needed for career success and life fulfillment based on a vitalistic philosophy. Life University takes all student and consumer complaints very seriously. The University works with students to resolve all complaints in an expeditious, fair, and pleasant manner. The complaint process provides students a path to discuss academic and non-academic concerns or register formal complaints or grievances. This process can also be used to address alleged violations of State consumer protection laws that include but are not limited to fraud and false advertising, alleged violations of State laws or rules relating to the licensure of post-secondary institutions, complaints relating to the quality of education, or other State or accreditation requirements. Post-secondary institutions participating in federal student financial aid programs are required to maintain formal grievance procedures.
STEP 1
Students are encouraged to resolve issues within the University. Complaints should first be filed internally to the appropriate Life University authority and then, if necessary, to external authorities.
Non-Academic Matters Students with grievances relating to non-academic matters should confer with the Director of Student Conduct. The Director of Student Conduct will facilitate a review of the issue as it relates to Life University policy. The role of the Director of Student Conduct is to facilitate a resolution to each issue presented as well as ensure that each individual is treated fairly and in accordance with all Life University policies, procedures and standards of conduct. If a resolution cannot be achieved, the Director of Student Conduct may refer the student to the Human Resources Department to determine what additional steps may be available. The Human Resources Department is located at 1075 Barclay Circle and can be reached at (770) 426-2930.
Academic Matters Concerning academic questions or complaints, the student should first go to the instructor involved. If questions are not satisfactorily handled or the complaint adequately handled, the student should go to the department head / division chair of that instructor and finally the dean of the appropriate college in which the student is enrolled. The dean will make the final decision.
Online Forms
To report an alleged behavioral violation of the Honor Code or for General Complaints:
https://publicdocs.maxient.com/reportingform.php?LifeUniv&layout_id=2
To report an Academic Misconduct violation:
https://publicdocs.maxient.com/reportingform.php?LifeUniv&layout_id=3
Report a Sexual Misconduct Violation:
https://publicdocs.maxient.com/reportingform.php?LifeUniv&layout_id=5
To report a student of concern to the Student Behavioral Assessment Team (SBAT):
https://www.life.edu/campus-life-pages/student-conduct/behavioral-assessment-team
---
STEP 2
If a student/consumer feels that the issue was not resolved satisfactorily at the highest level of the University, they may then file a complaint with the appropriate state agency.
• Students/consumers residing outside of Georgia in a SARA state may file a complaint with the State of Georgia by contacting the Georgia Nonpublic Postsecondary Education Commission (http://gnpec.org/ga-sara/)
NC-SARA States
---
| | | |
| --- | --- | --- |
| | | |
| Alabama | Maryland | Oregon |
| Alaska | Michigan | Rhode Island |
| Arizona | Minnesota | South Carolina |
| Arkansas | Mississippi | South Dakota |
| Colorado | Missouri | Tennessee |
| Georgia | Montana | Texas |
| Hawaii | Nebraska | Vermont |
| Idaho | Nevada | Virgina |
| Illinois | North Carolina | Washington |
| Indiana | North Dakota | West Virginia |
| Iowa | New Hampshire | Wisconsin |
| Kansas | New Mexico | Wyoming |
| Louisianna | Ohio | Washington, DC |
| Maine | Oklahoma | |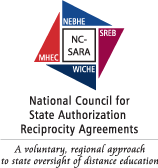 • Students/consumers residing outside of Georgia in a Non-SARA state (not listed above) may file a complaint with the appropriate consumer protection agency in the state they live in.
Should a link not work properly please contact State Authorization Coordinator: Vince.Erario@LIFE.edu.
---
STEP 3
If the student/consumer is not satisfied with the resolution provided by the University and the state, they may file a complaint with the University accreditation agency. Accrediting agencies will only review issues addressing significant non-compliance with agency standards, policies, or procedures. This is to be considered a last resort effort. If the student/consumer has not followed all of the preceding steps they will be directed by the agency to start with Step 1, at the University.
• Southern Association of Colleges and Schools Commission on Colleges (SACSCOC) complaint procedures – Inquiries related to topics such as admission policies, financial aid opportunities, program information, etc. should be referred directly to Life University at 770-426-2600, 1-800-543-3202, or www.life.edu. The Commission is to be contacted only if there is evidence that appears to support the institution's significant non-compliance with a requirement or standard.
• Life Universities Accreditation Page : https://www.life.edu/about-pages/basic-information/accreditation/
Southern Association of Colleges and Schools
1866 Southern Lane
Decatur, Georgia 30033-4097
404-679-4501
http://www.sacscoc.org/pdf/081705/complaintpolicy.pdf
Complaint Resolution by State
Students located outside of Georgia while enrolled in Life University may also choose to contact the appropriate higher education entity in their state.
Select a state to view its higher education contact information: