2019 Collegiate Rugby Championship
Buy packages at LifeURugby.Fans today!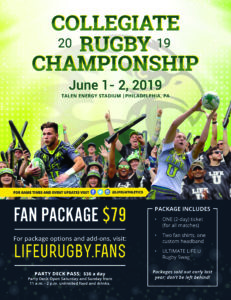 The CRC is right around the corner (June 1-2, 2019), and Life U's Men's and Women's rugby squads are looking to take home the titles in 2019. Now is the time to secure your spots in Philly to cheer the Running Eagles on with the best fan base in rugby.
CRC Fan packages start at $79, which includes:
One, 2-day ticket for all matches;
Two fan shirts;
One custom headband; and
Ultimate Life U Rugby swag.
CRC Student packages are only $100 through April 17, but don't wait to snag yours because they will go up to $175 beginning April 18. This Student package includes:
Roundtrip luxury coach transportation for all events and matches;
Two fan shirts, one custom headband and one, 2-day ticket for all matches; and
Hotel stay (3 students per suite) at the Embassy Suites Philadelphia Airport Hotel (includes free breakfast each day).
Also available for both packages as an add-on, is a $30 per day Party Deck pass, which is open both match days from 11:00 a.m.-2:00 p.m. and includes unlimited food and non-alcoholic drinks.