Life University requires all incoming freshmen and/or residents of the Commons to have a meal plan for their first 4 quarters. Those freshmen and Commons residents will have the default meal plan automatically added to their Student Account by the end of Week 1 and will be visible on EagleNet.
Optionally, any meal plan can be purchased by any student or employee at the Card Services Office with a credit or debit card or through the online portal at https://squareup.com/store/cardservices. Employees can even choose to have the plan paid thru payroll deduct using this link: https://tinyurl.com/mealplan-payroll-deduct.
The grid below outlines the 9 available plans.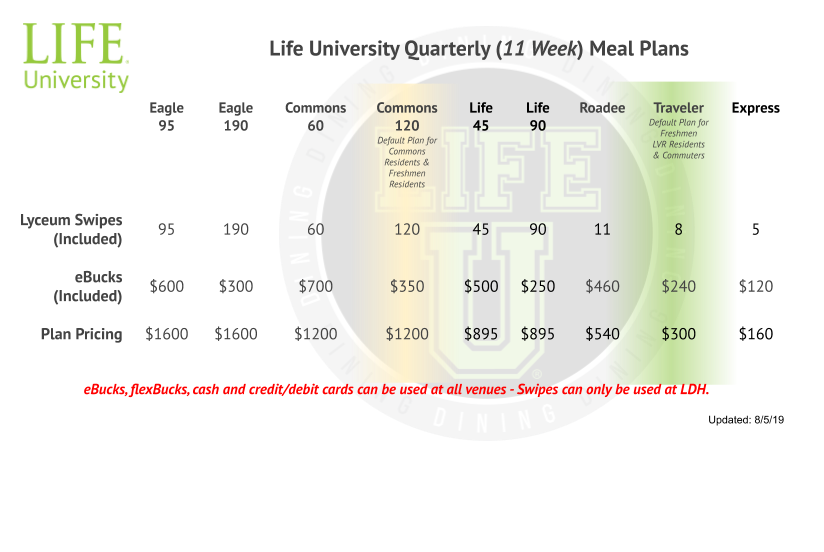 Upon entering Lyceum Dining Hall, located in the Commons, students/employees will swipe their Eagle Card and select from the "All You Can Eat" offerings. You may continue to dine until you leave the dining hall. Subsequent re-entry will require an additional swipe or payment.
Dispensed beverages are "All You Can Drink" if consumed in the dining hall, while bottled beverages are not, but are available for individual purchase.
All other dining venues accept eBucks, flexBucks, credit/debit and cash as tender options.
*Each re-entry into the Dining Hall requires an additional meal swipe
eBucks
eBucks are loaded in conjunction with an assigned meal plan and can be used just like cash to help fill in gaps of the meal plan coverage. ou can use eBucks for meals, a la carte food items and beverages at all of the campus eateries.
flexBucks
flexBucks can be used alone or in conjunction with your meal plan as an easy way to budget your purchases at all of University eateries. By adding funds to your Eagle Card online, you can use your Eagle Card for payment at Plato II Go, Eagles Landing, Socrates Café and Lyceum Dining Hall. An added incentive to use flexBucks instead of cash or debit card is that the University adds a 10% bonus to your purchase! So if you buy $50 worth, $55 is actually loaded!
Send Questions To: cardservices@life.edu Phone: 770.426.2638