Life Unversity's

Safe Space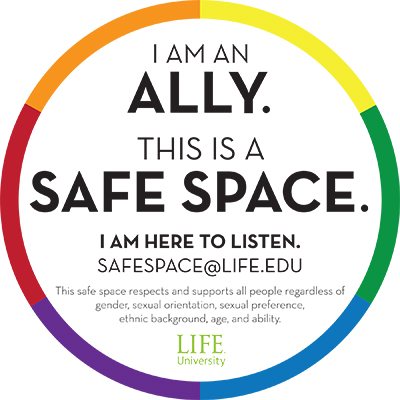 Safe Space is a campus-wide initiative to respect and support all people regardless of gender, sexual orientation, or sexual preference. This program provides open support to individuals who identify themselves (publicly or privately) as lesbian, gay, bisexual, transgender, inquiring and questioning, with the aim of ensuring all LGBTIQ students and employees on campus perform at their highest level. The overall goal is for Life University to create and maintain a campus-wide atmosphere of inclusion and acceptance.
LIFE faculty and staff undergo training to become allies as part of the Safe Space program, and the Life University Safe Space symbol will mark their offices and workspaces as safe zones for nonjudgmental conversation and guidance to resources and support.
We are grateful to the departments who have come together to support the creation of the Safe Space program, including Student Services, Academic Affairs, Service Initiatives, the Sid E. and Nell K. Williams Library and Marketing.
For more information, email SafeSpace@LIFE.edu.
---
Safe Space Department Allies
| | | |
| --- | --- | --- |
| Last Name | First Name | Department |
| Tara | Atkins | Financial Aid |
| Pat | Banks | Wellness Center |
| Dawn | Barton-Cadwallader | Enrollment |
| James | Baskett | HR |
| Cynthia | Boyd | Enrollment & Marketing |
| Will | Brooks | Marketing |
| Jennifer | Cherof | Marketing |
| Andre | Clanton | Student Services |
| (Sam)antha | Clark | Athletics |
| Curtis | Coleman | PASS |
| Erin | Dancer | Advancement |
| Andrea | Diaz | SSC |
| J'nee | Dobson | HR |
| Rebecca | Duffield | Chiro Sci |
| Karlyn | Edgar | CGUS |
| Elizabeth | Geisz | Enrollment |
| Genelle | Haney | SSC |
| Rebecca (Becci) | Holcomb | Wellness Center |
| Danielle | Holtman | Vice Provost |
| Caitlin | Howard | Student Success |
| Julie | Jordan | Chiro Sci |
| Rebecca | Koch | Service Initiatives |
| Jessica | Magazu | SAC |
| Ronald | Mayne | Clinical Sci |
| Edwin | Medina | Enrollment |
| Brett | North | C-HOP staff |
| Tiffany | Peterson | Wellness Portfolio |
| Kerith | Powell | C-HOP |
| Karen | Preston | Library |
| Natalie | Raeburn | Library |
| Shamere | Reynolds | SAC |
| Tamisa | Ridley | Library |
| Vickie | Robinson | SSC |
| Lisa | Rubin | SSC |
| Marc | Schneider | Student Services |
| Michael | Smith | CGUS |
| Geetha | Sridaran | Library |
| Jennifer | Stroble | Student Services |
| Sandra | Terry | Student Services |
| Jennifer | Valtos | Student Services |
| Anitha | Walker | Registrar |
| Melissa | Waters | Financial Aid |
| DeMarlo | West | PASS |
| David | Wilmoth | Library |
| Alison | Woldegeorges | SSC |
| Rebecca | Wright | Library |
| Chantey | Wright | Development |
| Matt | Yohn | Library |
| | | |
| | | |