B.A. Human Ecology
B.A.

Human Ecology
Are you interested in changing the world by studying the relationships between humans and their economic, social and natural environments? Life University's Bachelor of Science degree in Human Ecology (HE) strives to advance methods by which sustainability could be achieved.
HE majors may focus on either People, Politics and Social Change (PPSC) or Science, Sustainability and Resource Management (SSRM).
Within the PPSC track, students will explore the challenges of sustainable living and will develop viable solutions to address pressing issues at both the local and global levels.

This track is ideal for students who seek to be agents of social change within the public policy arena and other public forums.

In the SSRM track, students will gain the technical skills required to examine the social, political and policy impacts of technological advancements and will generate practical approaches to alleviate some of the most-pressing environmental, economic and social challenges with an emphasis on sustainable practices.

This track is ideal for students who are seeking careers related to science and sustainability practices within industry.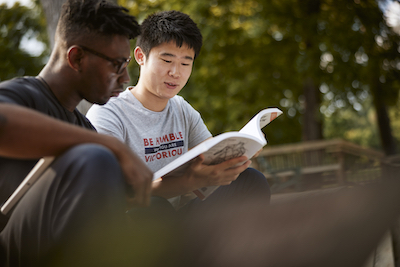 Learning Environment
While many large, public universities which offer a B.S. in HE have lecture-driven classes seating hundreds of students, that is not the case at Life University. Here the classes are small with a focus on engaged and active learning, which includes team activities, one-on-one interaction with faculty mentors and hands-on experience both on and off campus.
Career Opportunities
Depending on your personal interests and career goals, professional opportunities for graduates include:
Environmental Scientist, specializing in health
Environmental Restoration Planner
Construction Manager
Transportation Manager
Urban/Regional Planner
Industrial Ecologist
Water Resource Specialist
Compliance Manager
Logistics Manager
Fish/Game Wardens
Regulatory Affairs Manager
Environmental or Natural Resource Economist
Climate Analyst
Other Relevant Information
Life University offers the HE degree on campus. Life U is conveniently located in Marietta, Georgia, part of the thriving Atlanta metro area, and is only 35 minutes from Hartsfield-Jackson Atlanta International Airport. To learn more about our online programs, visit our Online Degree Programs page.
Degree Overview
For more information on degree specifics, requirements and curriculum offerings, please visit Loading….
Fast Facts
From the Bureau of Labor Statistics:
Employment of environmental scientists and specialists is projected to grow 8% from 2020 to 2030. The median annual wage for environmental scientists and specialists was $73,230 in May 2020
Employment of economists is projected to grow 13% from 2020 to 2030, faster than the average for all occupations. The median annual wage for economists was $108,350 in May 2020.
The B.S. in HE degree at Life U was established in 2019 and is the fourth degree offering in the Division of Social Sciences, along with the B.S. in Biopsychology; B.S. in Psychology; and M.S. in Positive Psychology.