Rob Scott, Ph.D., D.C.
President, Life University
---
Since his appointment as the fifth president of Life University in May 2017, Dr. Scott has championed a significant commitment to enhancing the University's academic offerings, campus culture and physical facilities, while placing emphasis on expanding research infrastructure and supporting the rich diversity of the campus community.
During Scott's tenure, Life University has added new online academic programs and the first accredited degree program in a Georgia correctional center for incarcerated students. LIFE has opened a new 362-bed student living community and eatery – The Commons and Lyceum Dining Hall, along with significant updates and improvements across campus. In addition, student enrollments have seen new heights through impactful retention initiatives that support student learning, engagement and success.
Seeking a campus with a richly diverse student body, Dr. Scott initiated a campus-wide cultural climate initiative that resulted in the funding and establishment of the Office of Diversity, Equity and Inclusion (ODEI) and a robust offering of programming and resources that foster a campus community and culture that allows for its members to feel welcomed, valued and respected.
As President, Dr. Scott has successfully "put a face" to the Office of the President and plays a visible role on campus with students, faculty, staff and alumni by regularly engaging in campus activities and events. A passionate and articulate advocate for the University's mission, Dr. Scott continues to build the recognition and legacy of Life University within the greater Atlanta area and global community.
Dr. Scott holds a Ph.D. in Applied Physiology from the University of Minnesota, a Doctor of Chiropractic degree from Northwestern Health Sciences University and is the only president of a chiropractic College that also holds a Diplomate of Chiropractic Philosophical Standards. His master's degrees include a Master of Science in Exercise Physiology and a Master's of Education in Educational Administration from OISE at the University of Toronto. He attended the University of Guelph to earn his Bachelor of Science in Human Kinetics.
Dr. Scott came to Life University in 2005 as the Dean of the College of Chiropractic before moving to Vice Provost and executive leadership roles in Academic Affairs. He has also worked as the Dean of Chiropractic at Northwestern Health Sciences University and as the Vice President for Academic Affairs at Logan College of Chiropractic. "I have been honored to serve the LIFE community," says Dr. Scott. "From our forward-thinking programs to the commitment of our students, faculty and staff, Life University is truly an institution dedicated to social innovation."
In May 2017, Dr. Scott was named the fifth President of Life University, succeeding former President and Chancellor Dr. Guy Riekeman. "Dr. Scott has been a longtime friend as well as a trusted colleague, says Dr. Riekeman. "I attempted to recruit him years ago because he was an emerging talent. Today, after working together for more than a decade, I can say I was correct. He is now at the top of his field, and Life University is enriched because of his contributions to education and our vision."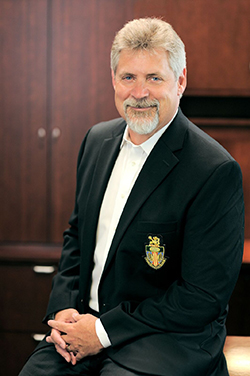 ---