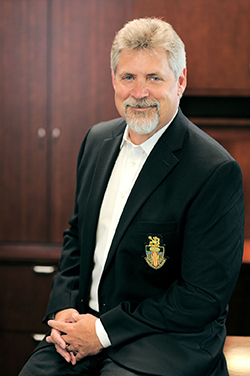 Rob Scott, Ph.D., D.C.
President, Life University
Dr. Scott holds a Ph.D. in Applied Physiology from the University of Minnesota, a Doctor of Chiropractic degree from Northwestern Health Sciences University and is also a Diplomate of Chiropractic Philosophical Standards. His master's degrees include a Master's of Science in Exercise Physiology and a Master's of Education in Educational Administration. He attended the University of Guelph to earn his Bachelor of Science in Human Kinetics.
Dr. Scott came to Life University in 2005 as the Dean of the College of Chiropractic before moving to Vice Provost and executive leadership roles in Academic Affairs. He has also worked as the Dean of Chiropractic at Northwestern Health Sciences University and as the Vice President for Academic Affairs at Logan College of Chiropractic. "I have been honored to serve the LIFE community," says Dr. Scott. "From our forward-thinking programs to the commitment of our students, faculty and staff, Life University is truly an institution dedicated to social innovation."
In May 2017, Dr. Scott was named the fifth President of Life University, succeeding former President Dr. Guy Riekeman, who assumed the title of Chancellor Emeritus of Life University at that same time. "Dr. Scott has been a long time friend as well as a trusted colleague, says Dr. Riekeman. "I attempted to recruit him years ago because he was an emerging talent. Today, after working together for more than a decade, I can say I was correct. He is now at the top of his field, and Life University is enriched because of his contributions to education and our vision."