B.A. Human Ecology
B.A.

Human Ecology
The Human Ecology Program
The Human Ecology program is based in an awareness that addressing the 21st century's pressing social and environmental problems requires a holistic, systems approach that considers the complex relationships between humans and their social, technological, and ecological environments. This innovative, interdisciplinary degree program draws together the environmental, natural, and social sciences; sustainability and resilience planning and politics; and extensive hands-on experience and professional preparation via internships, research design and implementation, sustainability problem solving, student research, experiential and service learning, community engagement, and leadership development. Committed to social change and the need for positive, proactive transformation of human-ecological relations, from beginning to end the Human Ecology program is designed to equip students with the skills they need to become thinkers and practitioners capable of reimagining and reinventing human- environment relations in the age of climate change.
Human Ecology Areas of Focus and Careers
Human Ecology is an extremely diverse and constantly-evolving field, and each practitioner approaches it differently. Accordingly, this program is designed to train all majors in the core perspectives and methods of Human Ecology while giving students the freedom to select their own area of focus, from environmental policy and planning, climate adaptation, and food systems sustainability to urban resilience and the ecology of health and wellness.
The Human Ecology B.A. incorporates significant practical and professional experience to prepare students to meet their academic and professional goals after graduation. The Human Ecology program is designed to prepare students for positions in the wide-range of professions in which sustainability, environmental management, and social-ecological systems thinking and design play important roles. Such 'careers of the 21st century' are growing in number and include (but are not limited to): public and private sector, city, county, state, and federal government, and nonprofit organizations, academic research institutions, environmental and ecosystem management, ecosystem services, business, logistics, media, urban planning, public policy, and sustainability and resilience design and consulting.
A Living Life U interview with Dr. Stephanie Wakefield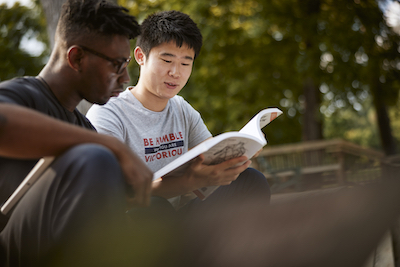 Learning Environment
While many large, public universities which offer a B.A. in HE have lecture-driven classes seating hundreds of students, that is not the case at Life University. Here the classes are small with a focus on engaged and active learning, which includes team activities, one-on-one interaction with faculty mentors and hands-on experience both on and off campus.
Career Opportunities
Depending on your personal interests and career goals, professional opportunities for graduates include:
Environmental Scientist, specializing in health
Environmental Restoration Planner
Construction Manager
Transportation Manager
Urban/Regional Planner
Industrial Ecologist
Water Resource Specialist
Compliance Manager
Logistics Manager
Fish/Game Wardens
Regulatory Affairs Manager
Environmental or Natural Resource Economist
Climate Analyst
Other Relevant Information
Life University offers the HE degree on campus. Life U is conveniently located in Marietta, Georgia, part of the thriving Atlanta metro area, and is only 35 minutes from Hartsfield-Jackson Atlanta International Airport. To learn more about our online programs, visit our Online Degree Programs page.
Program Partners and Internships
Degree Overview
Fast Facts