Bachelor of Science in Exercise Science
B.S.

Exercise Science

Life University's Bachelor of Science in Exercise Science prepares graduates for rewarding careers in cardiac and pulmonary rehabilitation, sport injury management, health promotion, corporate fitness and community-based fitness and wellness programs.
Those planning to go on to advanced study in preparation for careers in exercise physiology, clinical exercise physiology, kinesiology, biomechanics, athletic training, physical and occupational therapy, nutrition, Chiropractic, medicine or research will find Life University's Bachelor of Exercise Science degree equips them well for the challenges of graduate study and sets them apart from the competition.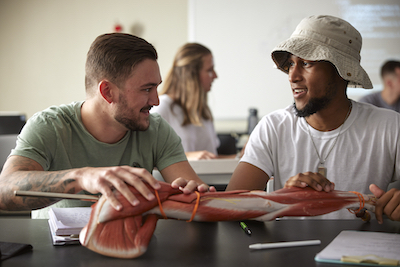 Learning Environment
Life University's students in this program receive the highest-quality education and technical instruction in the disciplines of anatomy, biology, biochemistry, physiology and kinesiology, and they apply this knowledge to a range of populations. They also learn to work with the body as an innately intelligent organism and to care for athletes and community members through our public clinic, the Center for Health and Optimum Performance (C-HOP), as well as in a variety of internship/externship or practicum settings, including cardiac rehabilitation and adult fitness programs offered by hospitals, corporations and community organizations.
Career Opportunities
Fitness Center Manager
Corporate Fitness Officer
Food Company Salesperson
Strength & Conditioning Specialist
Sports Trainer
Other Relevant Information
Life University offers leading-edge, vital health science degrees in a dynamic community that empowers and inspires individuals to discover and design lives of success and significance. And since Life University's program graduates play diverse and pivotal roles in the field of sports medicine and performance, a Life University degree gives students an edge over the competition. While traditional exercise and sport science focuses on diagnosing and treating chronic conditions and injury related to athletic activity, Life University takes it to the next level by helping individuals achieve optimal athletic performance.
Life University offers the Bachelor of Science in Exercise Science degree on campus. Life U is conveniently located in Marietta, Georgia, part of the thriving Atlanta metro area, and is only 35 minutes from Hartsfield-Jackson Atlanta International Airport. To learn more about our online programs, visit our Online Degree Programs page.
Degree Overview
For more information on degree specifics, requirements and curriculum offerings, please visit Loading….
Fast Facts
From the Bureau of Labor Statistics:
Employment of exercise physiologists is projected to grow 13% from 2020 through 2030, faster than the average of all occupations." & this: "The median annual wage for exercise physiologists was $50,280 in May 2020.
From the Bureau of Labor Statistics:
The median annual wage for exercise physiologists was $49,170 in May 2018.
Testimonials
Jonathan Beausejour, Exercise Science
"With Life University being a chiropractic and a health-conscious school, I knew it would be the best opportunity not only for me to get an education, but to also optimize my health, playing basketball the best way I can."
"I think I have a greater grasp of what I want to do in my career because of what Life University has offered me. All the instructors are here to not just help you get through the program and to do their job, but to help you achieve outside the program and into your career. They really care."
.